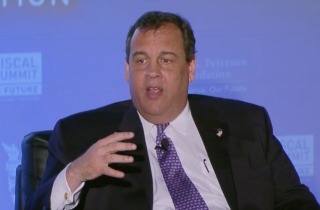 No matter what politically-themed musical skit Bruce Springsteen might participate in that makes fun of him, New Jersey Gov. Chris Christie will always be a devoted fan. Especially since the 2016 GOP presidential candidate used to lurk, and occasionally respond to, Springsteen fan listservs before his political career took off.
Copies of Christie's emails have been circulating online for some time, but POLITICO was finally able to confirm their legitimacy with a Christie campaign spokesperson.
In one of the shorter, unsigned emails, Christie provides details about the band's opening number and the entire set list. That's 19 songs, complete with special guests, descriptions of major and minor changes, and other bits of trivia only Springsteen aficionados would appreciate.
Yet the best message is Christie's longest. Titled "Brush with Bruce at 30,000 feet," the email — dated Friday, January 21, 2000 — recalls the future New Jersey governor and his wife's encounter with Springsteen on a flight home from Minnesota. Of course they'd flown out to the Midwest just to see the boss, and as Christie notes in his first paragraph, it was one of the 10 Springsteen shows they'd attended that year.
We board the 11 am Northwest flight back to NJ the day after the show.  My wife and I are sitting in 1st row of 1st class and getting out our books out of our bags and putting the luggage away in the overheads.  From behind me I hear a voice say,"I think I'm sitting right back here."  I knew immediately–it was Bruce!

He was by himself–no Patty, no bodyguards–just Bruce, a baseball cap, jeans jacket, NY Times and Minneapolis Star-Tribune.  I immediately go off the deep end.

The plane is then delayed 30 minutes on the ground and we have our chance. We walked back to see Bruce, introduced ourselves and told him we had flown in for the show last night and were headed home.  He said, "Me, too."  We thanked him for the great performance the night before (and for all the great nights).  He was incredibly gracious, we chatted briefly about where we lived, etc., and then said good-bye and went back to our seats (he was in the last row of 1st class).

When we landed in Newark we walked off the plane with Bruce right next to us.  I asked him if I could tell him a little story.  I told him about the night he played Sandy at the Continental Arena.  My 6 year old son Andrew and I were in the front row on tix we won in the KACF auction.  Bruce had thrown him a pick earlier in the evening and acknowledged his energy at 11 PM during Land of Hope and Dreams.  (He said, looking at my six year old son, "He's still going?")  He then introduced Sandy by pointing to my son and saying "We're gonna send you home with a little lullaby."  As I finished this story in the jetway, Bruce said, "That was your little guy?"  I said yes and told him how much it meant to my son (he'll still calls Sandy "his" song) and how much it meant to me.  He said he remebered and called Andrew "crazy" with a big grin and chuckle.  He told me to tell Andrew he was glad he had such a good time and to come back again.  I then asked Bruce if he could sign an autograph to Andrew and his 3 year old sister Sarah Anne (who had also been to 2 shows–one in Philly and one in Jersey).  He was happy to do it and signed to both of them.  He shook my hand, told my wife to make sure the kids got the autograph and wished us a Merry Christmas.  His ride was waiting at the gate and he walked away.  What an incredible time for me, a Bruce fan since 1976.

He was everything I hoped he would be if I ever got a chance to meet him–gracious and incredibly normal in a truly extraordinary way.  That was my Christmas gift.
You can read all of the Christie Springsteen listserv emails in full over at POLITICO. Or, if you're genuinely curious and a glutton for punishment, you can try and calculate the total cost of Christie's banner year of attending 10 performances. ("[The] second Asbury Park rehearsal, 8 of the NJ shows and one in Philly.") Yikes.
[h/t POLITICO]
[Image via screengrab]
— —
>> Follow Andrew Husband (@AndrewHusband) on Twitter
Have a tip we should know? [email protected]