Brit Hume: Juan Williams Was Fired For Being 'A Bill Cosby Liberal' (VIDEO)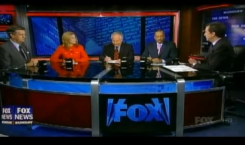 It was rally around Juan Williams this morning on Fox News Sunday. Williams, who is a regular panelist on the Fox Sunday show (where he often crosses swords with Bill Kristol) appeared this morning along with Kristol, Brit Hume, Nina Easton, and host Chris Wallace, and was the recipient of much love, support and indignation.<!-more-->
I'll post the video of the segment when it becomes available [Update: posted below], in the meantime, here is a short rush transcript, as they say. Update: I added Hume's remarks about Bill Cosby below.
Said an indignant Hume: "It's a howling double standard. The standard being applied to Juan Williams is manifestly not being applied to other NPR people. And I think it is simply this, that in the culture of NPR, appearing on Fox is a sin. And in the culture of NPR, for an African American man like Juan, regardless of his extraordinary stature, to be there and be kind of a Bill Cosby liberal, not a down-the-line liberal, is a sin as well. They have been gunning for him for years. These remarks about Muslim garb at airports was merely a pretext. They have been wanting to get him, and got him, and in so doing exposed themselves for who they are."
To the best of my knowledge this is the first time the race question has been raised with regards to Williams' firing from anyone, nor did Hume offer any examples to back this theory up. That said, no one including Williams countered the statement.
Hume also questioned why both Nina Totenberg and "esteemed" fellow colleague Cokie Roberts have been allowed to express views elsewhere but never reprimanded by NPR.
"There is so much to dislike about NPR it's hard to know where to begin" said Kristol before citing CEO Vivian Schiller's remarks that Williams should have kept his opinions between himself and his "psychiatrist or publicist."
"I don't have a psychiatrist or a publicist!" protested Williams.
Concluded Chris Wallace: "Let me just say buddy, we're delighted to have you…you're among friends."
Responded Williams: "I expect Brit to punch me the minute I leave." "We still have another segment!" Said Wallace.
Update: Video below. Also worth pointing out, now that we have the full segment, that Chris Wallace notes Mara Liasson had long-planned to take today off so viewers shouldn't "read anything into it." Additionally, it's unclear what a "Bill Cosby liberal" is per se, presumably it is a vague reference to Cosby's famous 2004 'Pound Cake' speech to the NAACP where he voiced his brutally honest and/or harsh positions on the state of Black youth in America.
Have a tip we should know? tips@mediaite.com