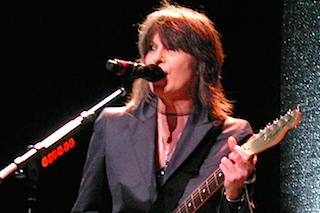 The Pretenders' lead singer Chrissie Hynde is facing heat today for comments she made about rape in an interview with The Sunday Times of London. "You know if you don't want to entice a rapist, don't wear high heels so you can't run from him," she said. "If I'm walking around in my underwear and I'm drunk. Who else's fault can it be?"
Hyde went so far as to take "full responsibility" for her own sexual assault, which took place more than 40 years ago in Ohio and is described in detail in her new memoir, Reckless: My Life as a Pretender
.
"Now, let me assure you," she writes in the book, "that, technically speaking, however you want to look at it, this was all my doing and I take full responsibility. You can't fuck about with people, especially people who wear 'I Heart Rape' and 'On Your Knees' badges."
Asked in the interview how she can blame herself this many years later, Hynde said, "Of course. Because you can't paint yourself into a corner and then say whose brush is this? You have to take responsibility. I mean, I was naive… They're motorcycle guys! If you play with fire you get burnt. It's not any secret, is it?"
"I don't think I'm saying anything controversial am I?" she added later.
At least one organization in the UK that advocates for rape victims called Victim Support has already come out publicly against Hynde's remarks, telling The Guardian, "Victims of sexual violence should never feel or be made to feel that they were responsible for the appalling crime they suffered – regardless of circumstances or factors which may have made them particularly vulnerable."
[Photo via Wikimedia Commons]
— —
>> Follow Matt Wilstein (@TheMattWilstein) on Twitter
Have a tip we should know? [email protected]