Christian Bale to George Clooney: 'Shut Up' and 'Stop Whining' About Paparazzi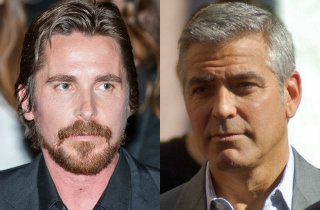 Christian Bale has a reputation for losing his temper, and according to a new interview with the Wall Street Journal he may be more inclined to action than words when it comes to dealing with the paparazzi. In fact, he had some harsh words for fellow Batman George Clooney, who has been railing against the tabloid press since they descended on his Lake Como wedding earlier this fall.
Asked about Clooney's campaign against the paparazzi, Bale quickly dismissed it as misguided:
"I know, but it's boring, isn't it? You know what I mean? It doesn't matter that he talks about it. It's like, come on, guys, just shut up. Just get on with it and live your lives and stop whining about it. I prefer not to whine about it."
But earlier in the interview, Bale described his own interactions with the paparazzi. "I was in Italy with my wife. I would go to work; she would leave the hotel," he said. "There would be a man who stood outside of the hotel, and he would say the most obscene things imaginable to my wife. Now, that happened a number of times. I know what he's after; he has a strategy there. Am I able to say I'm not gonna give him that satisfaction of angry Christian Bale coming after this man? But equally, he's killing my humanity and my dignity as a husband if I do not, and he knows this. So you've got a choice."
"I don't really give a shit what he says about me," Bale added. "So what happens? One day I walk out and I see him. I go after him, and he gets all these shots of me coming after him. Bingo, he's hit gold. He gets exactly what he wants, smiles and walks off. I feel like an ass 'cause I've given him what he wanted. But in my mind, I had no other choice. How could I sit back and accept somebody talking that way to my wife? I couldn't. I just couldn't do it."
So, it appears that Bale doesn't think Clooney should stop worrying about the press invading his privacy, but instead thinks he should confront them directly as opposed to "whining" about it in public.
[Photos via Wikimedia Commons]
— —
>> Follow Matt Wilstein (@TheMattWilstein) on Twitter
Have a tip we should know? tips@mediaite.com