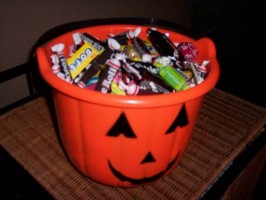 An article on CBN.com that alleges, among other things, that "most of the candy sold during this season has been dedicated and prayed over by witches" has been removed by the site after becoming an object of mockery by The Huffington Post. (We linked a cached version.) The site ran a slideshow and poll of the most evil candy brands.
Why did CBN remove the post, which originally appeared at Charisma.com? Is HuffPo guilty of mocking Christianity, or are they justly targeting a fringe belief?
We've reached out to CBN to find out why they took the post down, and we await their response. There are several possibilities. It's possible that CBN's editors re-thought the content of the article, given the negative attention being paid to it. The piece also suggests the existence of an unholy trinity, and a laundry list of "behind-the-scenes" Halloween activities that includes:
* Sex with demons
* Orgies between animals and humans
* Animal and human sacrifices
* Sacrificing babies to shed innocent blood
* Rape and molestation of adults, children and babies
* Revel nights
* Conjuring of demons and casting of spells
* Release of "time-released" curses against the innocent and the ignorant.
It's pretty sensational, out-there stuff that might have slipped through initially due to the writer's credentials. On the other hand, CBN head Pat Robertson engages in fringe activities like prophecy, so this is a sliding scale.
Or, it's possible the deluge of traffic from HuffPo might have caused server problems for them.
Many Christian conservatives are sensitive about mockery from the left, which they view as anti-Christian. I asked Dr.Thomas Howe, Dean of Apologetics and Professor of Biblical Studies at the Southern Evangelical Seminary and author of books like The Big Book of Bible Difficulties, if things like "time-release curses," demon orgies, and demonic candy are part of mainstream Christian thought.
"None of (this is) considered main stream Christian beliefs. Beliefs in curses is occultic, not Christian. I am not aware of any evidence supporting any of these claims about Halloween, neither do I subscribe to the notion of a demonic trinity. This is not found anywhere in the Bible, and it is not a historic Christian doctrine."
Dr. Howe is an ordained Southern Baptist minister.
It seems, then, that the Huffington Post is not running afoul of mainstream Christians in mocking this article. Although we don't yet know why CBN took the article down, according to Dr. Howe, they made the right call. This  goes to show that just because an organization puts something online, it doesn't mean they speak for an entire religion.

Have a tip we should know? tips@mediaite.com