Chuck Todd Delivers Knockout Punch to Rudy After He Tried to Compare Trump and Clinton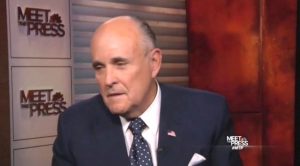 Largely due to a series of staffing shakeups from the fallout over the latest campaign flap to strike Trump's orbit, former New York City mayor Rudy Giuliani appeared on Meet The Press for the second week in a row Sunday, and got worked into the corner by Chuck Todd late in the eleventh round.
As the Trump surrogate continued to deflect questioning and target the world of Clinton controversies and personal peccadilloes, Mr. Mayor indicated that what Hillary Clinton should be judged by is what she has said in private. Wikileaks, after all, just released a series of emails hacked from the account of campaign architect John Podesta that show Clinton's friendly demeanor towards her Wall Street audience.
But, as Todd pointed out… if Clinton gets critiqued for what she said in private, then how the hell do we not judge Mr. Tic Tac?
"If you believe that Hillary Clinton says one thing in private — and that means what she really is is what she is in private — should we assume what Donald Trump did in that Access Hollywood bus is what Donald Trump is like in private?" Todd asked. "I mean, that's what you're implying here with Hillary Clinton."
Giuliani faltered into the corner and begged Mick to cut him, unable to respond directly to Todd's comparison. And just like that, ding ding ding, this one's all over, folks.
Watch above from Meet The Press.
—
J.D. Durkin (@jiveDurkey) is an editorial producer and columnist at Mediaite.
[image via screengrab]
Have a tip we should know? tips@mediaite.com