Giuliani Gets Roasted Online for Dismissively Claiming 'Men Talk Like' Trump Did in 2005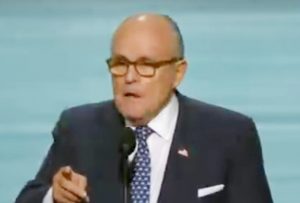 While appearing on CNN's State of the Union this morning, Rudy Giuliani got thoroughly told by Jake Tapper. Giuliani had been claiming that Donald Trump's leaked conversation about women was just how men talk and that anyone who hasn't said similar things about women should throw the first stone. Tapper shot back that he would be glad to throw the stone because he has never spoken about women that way.
As that was happening on air, the Giuliani-trouncing was matching pace online. The official SOTU Twitter account tweeted out his quote…
Rudy Giuliani to @jaketapper on Trump 2005 tape: "men talk like that." #CNNsotu

— State of the Union (@CNNSotu) October 9, 2016
…and was flooded with replies from those who were not happy to see themselves characterized that way.
I don't speak like that and I'm 18. @CNNSotu @jaketapper https://t.co/gYEzuh33zX

— Delonté De Clou (@dilemmv) October 9, 2016
@CNNSotu @jaketapper no, no they don't, not men of character/not men w morals/ethics/respect

— Rob1963 (@Rob10549) October 9, 2016
@CNNSotu @jaketapper No, Rudy, we do not. Just because your hero, Donald Trump, does, how dare you lump us all in with that hedonist.

— Ken Hamilton (@KenHamilton1955) October 9, 2016
@CNNSotu @jaketapper he also said "everyone does it" about marriage infidelity a few weeks back. Flawed surrogate

— Bryan (@bryanfunk1) October 9, 2016
@CNNSotu @jaketapper stop pretending that men speak about sexual assault. Sexual assailants do.

— Darren Hutchinson (@dissentingj) October 9, 2016
@CNNSotu @jaketapper that's highly insulting to those of us that don't talk like that, we're not all scum like Rudy and Donald

— David conte (@daveconte1971) October 9, 2016
That is certainly a change from Trump's insistence that what was recorded was "locker room talk" and Bill O'Reilly's classification of the leaked audio as "crude guy talk."
[image via screengrab]
Have a tip we should know? tips@mediaite.com