FBI Contacted After Clarence Thomas' Wife Ginny Calls Anita Hill Asking For An Apology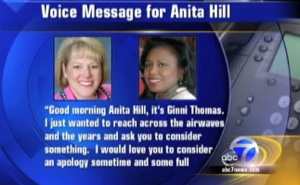 Well its safe to say that no one probably expected this coda to the story of the Clarence Thomas hearings. Multiple sources are reporting that Ginny Thomas, wife of Supreme Court Justice Clarence Thomas and Tea Party organizer left a voicemail asking for an apology from Anita Hill, the former staffer of her husband and central figure in the allegations of sexual harassment that led to the "public lynching" as Mr. Thomas called it himself.
Writing for the Wall Street Journal, Jess Bravin reports:
"I did place a call to Ms. Hill at her office extending an olive branch to her after all these years, in hopes that we could ultimately get past what happened so long ago," Virginia Thomas said through a spokesman. Mrs. Thomas, a longtime conservative activist, has lately taken a more visible role by founding a tea-party group called Liberty Central.

Ms. Hill, now a professor at Brandeis University, said she didn't take Mrs. Thomas's Oct. 9 voicemail as conciliatory.

"I certainly thought the call was inappropriate," Ms. Hill said through a Brandeis spokesman. "I have no intention of apologizing because I testified truthfully about my experience and I stand by that testimony."
ABC News has published the transcript of Thomas' voicemail message to Hill:
"Good morning, Anita Hill, it's Ginny Thomas. I just wanted to reach across the airwaves and the years and ask you to consider something. I would love you to consider an apology sometime and some full explanation of why you did what you did with my husband. So give it some thought and certainly pray about this and come to understand why you did what you did. Okay, have a good day."
By any measure, the Clarence Thomas confirmation hearings of the early 90s was an ugly and divisive time in America politics. Some have pointed to it as the beginning of the bitter partisan divide that has created the current opinion media landscape; and at least Andrew Breitbart claims his "political trajectory from left to right" started with the Clarence Thomas hearings.
Over the past year, Virginia Thomas' political activism has raised some questions about the role of Supreme Court spouses and the advocacy that they may or may not bring to the public discourse. She is an executive behind Liberty Central Inc.a conservative tea partying lobbyist group, non-profit but accepting donations from corporate sponsors. Some critics have expressed understandable concern that there might be a conflict of interest.
Judging by the reaction by many media outlets, the wound of this affair are still remarkably fresh, despite the fact that the hearings occurred nearly 20 years ago. Watch a local news report of the story below:
Have a tip we should know? [email protected]