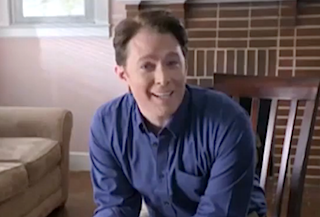 Singer Clay Aiken announced Wednesday that he will be running for Congress as a Democrat in his home state of North Carolina, trying to unseat incumbent Republican Renee Ellmers. In an interview with the Huffington Post today, the former American Idol contestant used his experience on the popular reality show to demonstrate how he believes Congress could be more effective.
Aiken said:
"I hate to use an 'American Idol' analogy because that's not who I am … but for me to win 'Idol,' I didn't have to trip Ruben [Studdard] on stage. I didn't make him look bad. And people are spending more time in D.C. trying to make their opponent look bad than they are actually doing good stuff. For me to be successful on 'Idol,' I just had to do my very best. And if I did my very best, it would pay off for me. And if politicians, regardless of the party, would go up to D.C. and do their very best, you would see that effect for everyone in the country."
Of course, as even Aiken's prospective opponent Ellmers has pointed out before he made his official announcement, Aiken did not beat Ruben Studdard, instead coming in second place on the show's second season. "As we know, he didn't really fare all that well. He was runner-up," she said in a radio interview. "He also didn't win on ['Celebrity Apprentice'].. so I guess the next step is Congress. You know, we don't have a very high approval rating so I guess the bar's been lowered for him."
Read the full interview at HuffingtonPost.com.
[photo via screengrab]
— —
>> Follow Matt Wilstein (@TheMattWilstein) on Twitter
Have a tip we should know? tips@mediaite.com