Clemson University Bans Harambe Memes For Promoting 'Racism' and 'Rape Culture'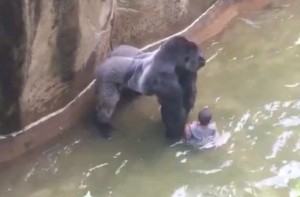 Freshmen at Clemson University were informed last week that they would no longer be allowed to display public references to Harambe, the silverback gorilla shot and killed by Cleveland zookeepers.
"Due to an incident that happened earlier this week, we are no longer allowing any references to Harambe (or any other spelling) displayed on doors, halls, billboards, or windows," read the email to resident assistants, provided to Campus Reform. "There was a report from an individual about a meme being offensive and bias [sic] in nature and as a result all Harambe references are no longer allowed within our community."
"If you want to use the memes for decoration, then you should move them into your room, where people would have to be invited into the space to see said decoration," wrote Graduate Community Director Brooks Artis.
When a student emailed Artis asking about the ban, he explained that "there have been reports that he and the incident surrounding his death have been used to add to the rape culture as well as being a form of racism. Although I (nor your RA) can share the incident that was reported the [sic] resulted in this change, you have to remember that we all come from different background [sic] and have different identities that shape how we are affected by different references."
UPDATE (12:51 PM): Clemson University announced in a statement Tuesday that student will indeed be permitted to display Harambe memes, calling Artis' initial email incorrect: "We want to clarify that building residents are able to post items on their individual doors."
[Image via screengrab]
—
>>Follow Alex Griswold (@HashtagGriswold) on Twitter
Have a tip we should know? tips@mediaite.com