Clinton Supporters Falsely Accuse Sanders Fans of Chanting 'English Only' During Caucus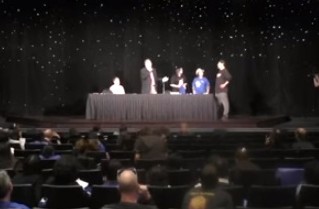 Labor icon and Hillary Clinton supporter Dolores Huerta accused Bernie Sanders supporters in Nevada of chanting "English only," a charge that was thrown into doubt when video of the event emerged.
Huerta tweeted Saturday about the incident and retweeted actress (and fellow Hillary supporter) America Ferrera. Both claimed that Sanders supporters chanted "English only" during the Clark County caucus.
I offered to translate & Bernie supporters chanted English only! We fought too long & hard to be silenced Si Se Puede! #ImwithHer #NVcaucus

— Dolores Huerta (@DoloresHuerta) February 20, 2016
Harrah's casino site- Bernie supporters chant "English-only" to stop civil rights leader @DoloresHuerta from providing Spanish translation.

— America Ferrera (@AmericaFerrera) February 20, 2016
That accusation earned coverage from CNN, Washington Post, and The Hill, and even more extensive coverage from liberal outlets like ThinkProgress, Huffington Post, Raw Story, Vox, and New York Daily News.
But Huerta and Ferrera's accusations were immediately questioned by actresses and Sanders supporters Susan Sarandon and Gaby Hoffmann, who were also present.
.@AmericaFerrera I was there. Nobody frm Bernie's side said English only. Moderator did when no neutral translator was [email protected]

— Susan Sarandon (@SusanSarandon) February 21, 2016
@AmericaFerrera @DoloresHuerta I was there & NO ONE from Bernie camp shouted this – moderator did when neutral translator wasn't found!!

— Gaby Hoffmann (@gabymhoffmann) February 21, 2016
Sarandon later tweeted out a video which appears to back her version. In the video, the moderator assents to a Spanish translation and no one in the crowd objects. It is only after someone suggests Huerta translate that some in the crowd start to complain. Some shout "She's with Hillary," "She's a surrogate," and "Neutral," but no one chants "English only."
The moderator at first defends Huerta, but then tires of trying to fight with the Sanders supporters and announces that it will just have to be English only. Sanders supporters clap and cheer in response, but again no one can be heard chanting "English only."
In response, the urban legend-busting website Snopes rated Huerta's claim false. "At no point did any Sanders supporters appear to have refused a translator based on the fact that translation was objectionable to them; nor was 'English only' used in a pejorative fashion," they note.
Watch above, via YouTube.
[Image via screengrab]
——
>>Follow Alex Griswold (@HashtagGriswold) on Twitter
Have a tip we should know? [email protected]