Clintons Defend Foundation's Record: It's a 'Charity, and Somehow That Has Gotten Lost'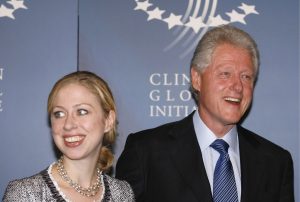 Following a raft of accusations of corruption, Bill and Chelsea Clinton defended the record of the charitable foundation that bears their name.
The foundation, which was created in 1997, has been hit with accusations that its fundraising apparatus serves as a smokescreen for various states, corporations, and individuals purchasing favor and influence with the Clintons.
Such allegations formed the basis of Peter Schweitzer's 2015 book Clinton Cash, which its publisher reissued with multiple factual corrections. An AP investigation found that several foundation donors met with Clinton while she was Secretary of State. Emails stolen from Clinton's campaign chair and made public via Wikileaks have provided the foundation's critics with additional fodder, as they shed light on the messy intersections of the Clintons' public service, personal incomes, and the foundation's fundraising efforts.
Multiple newspaper editorial boards have called on Hillary Clinton to shut down or remove herself from the foundation, as their continued connection bespeaks — at the very least — the appearance of impropriety. Republicans allege far worse graft in the form of "pay for play" transactions.
The accusations that the foundation was corrupt were "hard to hear because I know good and well that a lot of the people that are ­saying it know it's not true," the former president said in late September in remarks published Thursday in Billboard. "It's an insult to all the people who have worked there. But the people who have ­contributed know, and the people who have done the work know, and sometimes that's got to be enough."
"First and foremost the Clinton Foundation is a charity, and somehow that has gotten lost," Chelsea, the foundation's vice chairman, said.
Bill defended the foundation in August, shortly after the AP report came out, telling reporters in Atlanta:
We're trying to do good things. If there's something wrong with creating jobs and saving lives, I don't know what it is. The people who gave the money knew exactly what they were doing. I have nothing to say, except I'm really proud of the work they've done.
If Clinton wins the election, the campaign has said she and Bill will remove themselves from the foundation's board but Chelsea would stay on — an outcome Bill claimed did not represent a conflict of interest.
[photo: stocklight / Shutterstock.com]
Have a tip we should know? tips@mediaite.com