'Clock Boy' Lawsuit Against Conservative Pundits Dismissed, Father Forced to Pay Attorney's Fees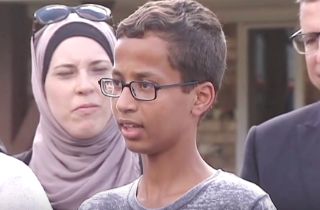 The father of "clock boy" Ahmed Mohammed saw his lawsuit against conservative pundit Ben Shapiro and others dismissed Thursday and was ordered by the court to pay Shapiro's lawyer fees.
Mohammed achieved notoriety in 2015 when he brought a homemade clock to school, the appearance of which apparently led his teacher to believe it was a bomb and call the police. The incident sparked a backlash against perceived Islamophobia, an outpouring of support from public figures like President Barack Obama, and quite possibly the stupidest media circus of the year.
Not among his defenders was Shapiro, who charged on Fox News that the incident was "a hoax" and that President Obama fell for it because "it confirms a couple of his prestated biases against police and against people who he perceives to be Islamophobic."
A year later, Mohammed filed a defamation lawsuit demanding an apology from Shapiro, Fox News, The Blaze, Glenn Beck, and an entire host of conservative commentators and outlets. Shapiro enlisted the services of attorney Kurt Schlichter (also a conservative pundit) and fought the lawsuit.
The 162nd District Court of Texas awarded an early and decisive victory for Shapiro, granting his motion for dismissal with prejudice. Shapiro crowed his victory with an intentionally ironic headline: "IMPLOSION: 'Clock Boy' Lawsuit Against Shapiro Dismissed, Shapiro Awarded Attorneys' Fees."
"This is an excellent day for free speech," Shapiro said. "Using law as warfare is perhaps the most disgusting tactic of politically correct activists across the country, and we couldn't be more excited to stand up against such frivolous use of our court system."
[Image via screengrab]
—
>>Follow Alex Griswold (@HashtagGriswold) on Twitter
Have a tip we should know? tips@mediaite.com