CNN Chief Zucker Defends Trump Coverage, Takes Shots at BuzzFeed and Vice: We 'Crush' Them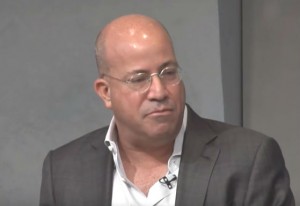 CNN President Jeff Zucker is the subject of a new Variety profile, and in it he sounds off on everything from Donald Trump to the ratings wars to networks' online competitors.
One thing he declined to weigh in on was Roger Ailes, simply saying his ousting was a surprise to them and CNN is focused on itself right now.
He's perfectly fine to tout how CNN's doing ratings-wise against Fox (especially with last week's DNC ratings victories), while making it clear this game isn't ALL about the numbers:
"There's a misconception we're doing this all for ratings," he says. "We're covering all of the news. It's just not necessarily on television anymore." He points to online stories of world events that may not make the daily broadcast for CNN's U.S. airwaves, and CNN International employs a robust team of reporters all over the world.
But when TV news executives bring up ratings this year, of course Donald Trump is involved. And Zucker, who has previously defended CNN's Trump coverage, says again, "It doesn't bother me. If everybody is a little upset at the end of the day, we're probably doing our job."
He specifically touts how much CNN is doing to be more diverse in terms of political thought, defending the controversial hiring of Corey Lewandowski by saying, "I think it's really important to have voices on CNN who are supportive of the Republican nominee. It's hard to find a lot of those. Our competitors tried to hire him too."
But then he got around to network news being challenged by online outlets. And Zucker did not hold back:
The online news landscape is crowded. But Zucker doesn't view the new players in the field as competitors. "I don't think Vice and BuzzFeed are legitimate news organizations," he says. What would he call them? "They are," he says with a mischievous grin, "native advertising shops. We crush both of them. They are not even in our same class."
BuzzFeed EIC Ben Smith responded in this statement to Politico:
"The most important test of any news organization this year is its coverage of the 2016 presidential campaign. I'm happy to put our tough, fair coverage up against CNN's decision to turn its platform over to Jeff's friend Donald Trump."
Yow.
You can read the full profile here.
[image via screengrab]
— —
Follow Josh Feldman on Twitter: @feldmaniac
Have a tip we should know? tips@mediaite.com
Josh Feldman - Senior Editor