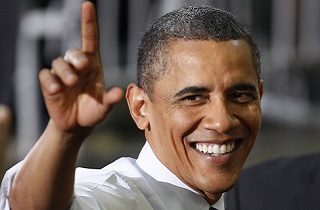 Tell me, again, how the mainstream media is all pro-Obama and whatnot. The political world is mildly buzzing about how the recent IRS/Associated Press/Benghazi talking points Scandalabra™ has had little effect, if any, on President Obama's approval ratings. In fact, the President's job approval actually ticked up several points (sounds familiar) in a poll taken at the end pf last week. Curiously, though, the CNN Polling Unit (now, there's a name) says that the President's two-point gain isn't really a gain, because this poll is apparently the first one in history to have a margin of error built into it.
The news in CNN's poll wasn't all good for the President, but much of it was, including his two-point gain in approval since April's CNN/ORC poll. Wait, did I say gain? Silly me:
"That two-point difference is well within the poll's sampling error, so it is a mistake to characterize it as a gain for the president," says CNN Polling Director Keating Holland. "Nonetheless, an approval rating that has not dropped and remains over 50% will probably be taken as good news by Democrats after the events of the last week."
Now, I've definitely heard of pollsters mentioning their margin of error in head-to-head polling, although they'll still characterize a slim lead as a slim lead, but I've never heard a pollster bring it up in order to undercut a comparison to his own poll. Yes, this poll had a margin of error, as did the April poll, so you can point out that it's a small gain, and that it is within the margin of error (although that's self-evident), but to say it's not a gain against an apples-to-apples poll? That's a new one on me.
But maybe that's just me, not being hip to CNN's poll-characterizing ways. Was there another time, recently, when the President experienced an approval ratings gain that was within the margin of error? Why, yes, there was! In January, the President's approval rating in CNN's poll went up by 3 points, which is within the poll's plus-or-minus 3.5% sampling error. The headline for that poll read "New TIME/CNN Poll: Obama's Job Approval Jumps, Public Favors Stricter Gun Laws."
Of course, that was the headline on Time magazine's website, but in that January poll, even CNN's Polling Unit acknowledged that "The president's approval rating is up three points from mid December CNN/ORC poll…"
CNN isn't the only outlet to ignore the clear mathematical gain, just the weirdest. The Washington Post's Sean Sullivan, referencing the same poll, said the President's approval rating was "virtually unchanged" since the last CNN poll. The Washington Post's Ezra Klein, however, somehow managed to thread that microscopic needle between reporting a slight gain for the President, and getting totally carried away in a football-spiking, Safety Dance-doing celebration of Obama's crushing-it-ness. How'd he do that? (emphasis mine):
Obama was at 49 percent in last week's Gallup poll. He's at 49 percent in this week's Gallup poll. CNN gave Obama even better news. A poll conducted on Friday and Saturday — so, peak scandal days — found the president's approval rating at 53 percent. That's a slight increase from their last poll, which was conducted in April and found Obama's approval at 51 percent.
Wait, you can do that? You can just describe a slight increase as a "slight increase?"
If there's one thing the mainstream media is more allergic to than admitting their mistakes, it's the possibility of being wrong. Recent polling indicates that maybe the over-the-top attacks on the President are making the public see him more favorably, but maybe not. By reporting the gain, but saying it's not really a gain, they've got all the bases covered. However it turns out, they told you so.
(h/t Wonkette)
Have a tip we should know? tips@mediaite.com