CNN Reporter Slammed for Tweet Noting 'Incredible Drain of Talent' Due to Harassment Scandals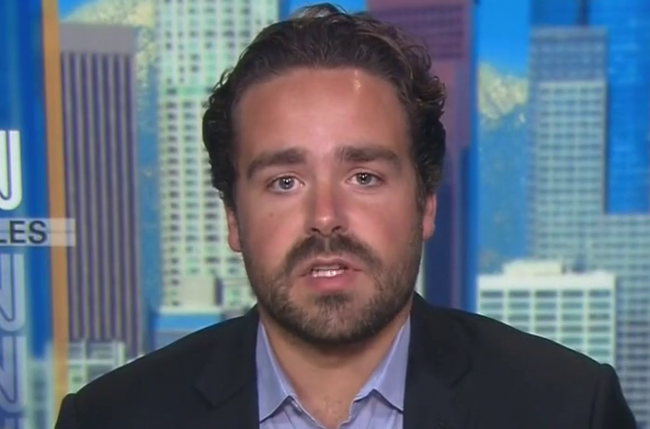 The hurricane of sexual harassment scandals that have rocked Hollywood, the media, and recently Capitol Hill, but CNN reporter Dylan Byers had a different take.
On Tuesday evening, he tweeted the following: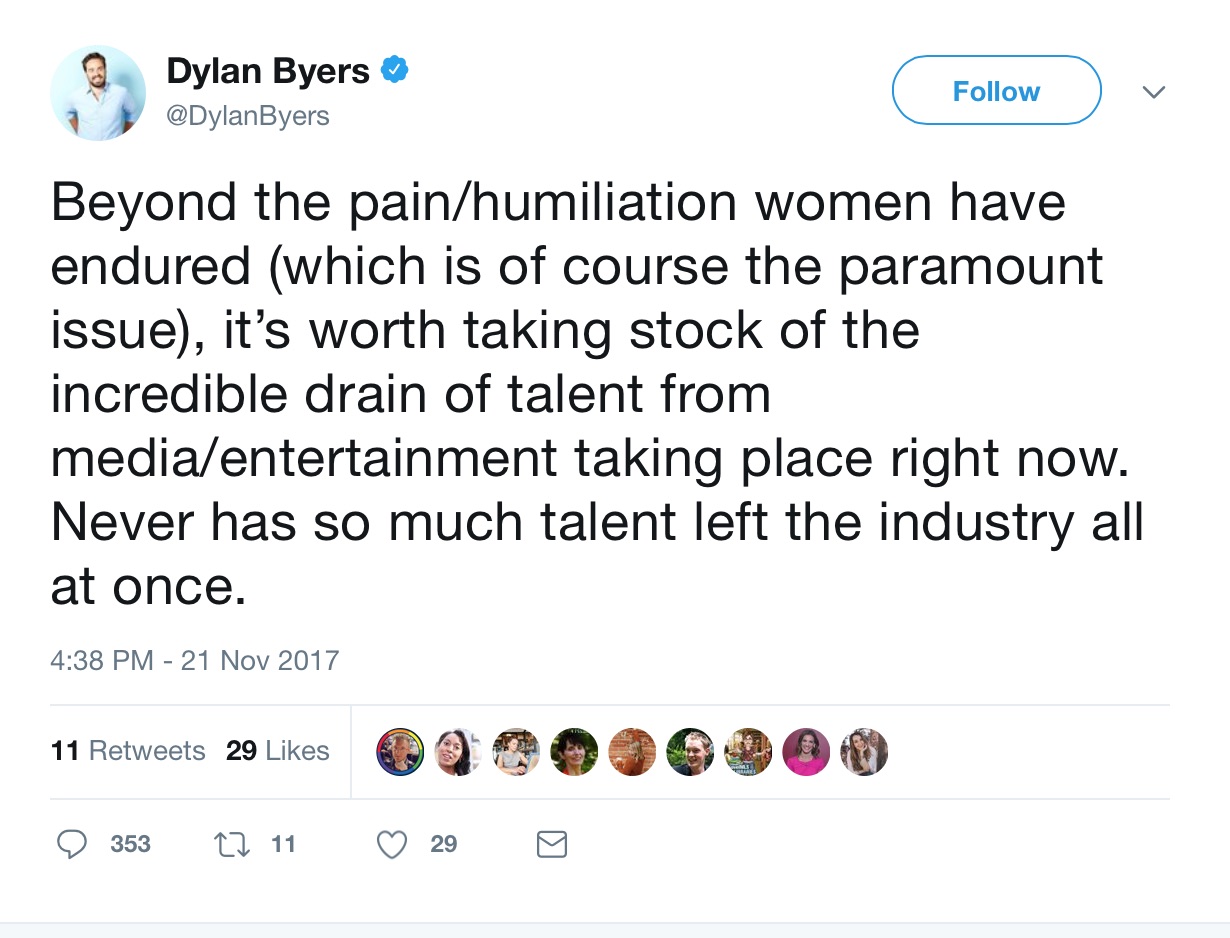 He was making a reference to many of the high-profile figures that were hit with sexual harassment allegations including Kevin Spacey, Jeffrey Tambor, John Lasseter, Charlie Rose, Mark Halperin, and Glenn Thrush, all who have either stepped down or had been suspended or fired.
Twitter didn't exactly appreciate Byers' tweet.
You're surely talking about the women who never had full careers in media and entertainment, right? Because that is the only tweet that would make sense right now…

— Casey Quinlan (@thatcaseyquin) November 22, 2017
Yeah geez what on Earth will we do without the sociopathy of the Kevin Spaceys and Harvey Weinsteins of the world, won't someone think of Bret Ratner's CONTRIBUTIONS

— Nandini (@nandelabra) November 22, 2017
I think we can find some suitable replacements

— Abigail Brooks (@_abigailbrooks) November 22, 2017
— Ben Shapiro (@benshapiro) November 22, 2017
Read. This. https://t.co/OJwWSgGk0q

— Mo Ryan (@moryan) November 22, 2017
this isn't the worst take I've seen in the last few weeks, but it's one of the most embarrassing. You should delete it quickly.

— Richard Lawler (@rjcc) November 22, 2017
WHAT IS WRONG WITH YOU?

— Van Badham ✊?? (@vanbadham) November 22, 2017
You know what was an actual massive drain of talent from the media/entertainment world? All the women that were chased away by sexual predators.

— Dave Hogg ? (@Stareagle) November 22, 2017
As penance for this terrible take u should give your job to a woman who left journalism in her early 20s after being sexually harassed

— J. Escobedo Shepherd (@jawnita) November 22, 2017
How many of this "talent" was riding on the coattails of underpaid and overlooked women and people of color to do the real work? Sorry not sorry that they're getting the heave ho.

— Laura Packard (P.S. Pls ban the nazis already) (@lpackard) November 22, 2017
I've covered the entertainment industry for 30 years. This "drain" is a teaspoon out of an ocean. And there's a sea of talented people who never got a shot because of men like these.

— Mark Harris (@MarkHarrisNYC) November 22, 2017
— Ira Madison III (@ira) November 22, 2017
You absolute muppet

— jo livingstone (@Jo_Livingstone) November 22, 2017
Oh dude no

— Lizzie O'Leary (@lizzieohreally) November 22, 2017
this is what a sexist asshole tweets. go fuck yourself. let's fill the "void of talent" with that of the incredible women actors who have been pushed down for far too long.

— jon van dine (@jonvandine) November 22, 2017
This tweet is the most embarrassing thing I've seen this week, and I saw a dog wearing a full rain suit today.

— Andi Zeisler (@andizeisler) November 22, 2017
The WHOLE POINT of the current situation is that there has been an incredible drain of talent going on for a hundred fucking years but yes let's all take a minute to miss the rapists.

— Sophie Heawood (@heawood) November 22, 2017
No, the idea that these guys were indispensable is what protected them for so long. Journalism will be just fine without them. Think of the talent that never broke in or left because of harassment. https://t.co/RyJTSbfFXI

— Emily Rauhala (@emilyrauhala) November 22, 2017
I've taken stock and I've found I don't give a fuck. https://t.co/zh0TFuaryK

— ana marie cox (@anamariecox) November 22, 2017
Is this a joke? 1. It's a handful of guys, a small percentage of existing harassers; 2. Their "talent" is on a scale developed by other white guys; 3. We'll never know the talent that could have flourished w/o these guys in place. https://t.co/K0OGxUsVvs

— Amy Sullivan (@sullivanamy) November 22, 2017
My hands are shaking…. @DylanByers delete your tweet.
That "talent" who led the industry physically and sexually assaulted DOZENS of women who left TV news from fear and that "talent" who would only help our careers if we had sex with them. #MeToo https://t.co/3pvJF0UDsw

— Emily Miller (@EmilyMiller) November 22, 2017
Byers followed up his initial tweet calling all the criticism "totally fair."
The criticism of this tweet is totally fair. I did not mean to defend these people or bemoan their departures. I just wanted to comment on the ramifications of the departures of these influential people — but I know that the ramifications of what they did are far far greater. https://t.co/5kxjtlghGq

— Dylan Byers (@DylanByers) November 22, 2017
He eventually deleted the tweet and added this:
I've deleted my previous tweet. It was poorly worded and didn't properly convey my intended observation.

— Dylan Byers (@DylanByers) November 22, 2017
[image via screengrab]
Have a tip we should know? tips@mediaite.com