CNN's David Gergen Discloses His Ties To Bain Capital While Praising Company In Reports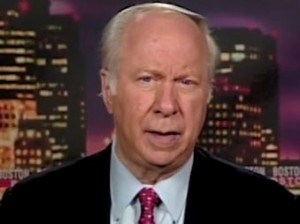 CNN senior political analyst David Gergen has, on several occasions in recent months, defended GOP presidential candidate Mitt Romney against the Obama campaign's claims that he is "either a felon or a liar" (Turns out the correct answer was simply "liar," Obama staffer Stephanie Cutter later clarified) when it comes to discussing his time at Bain Capital. He has also defended the company itself, touting its success and clout within the business community. But Gergen hasn't been entirely consistent when it comes to disclosing his own ties with the much-discussed private equity firm, and his connection to Bain inspires questions into whether he is in a position to offer an impartial, "journalistic" analysis of its seemingly increasing role in this year's presidential election.
As the Huffington Post's Michael Calderone points out in his in-depth look into Gergen's transparency on the issue, "the CNN analyst has, at times, noted some relationship to Bain while also neglecting to do so on air when lauding the company."
On Monday, however, Gergen offered a full disclosure into his relationship with Bain in a CNN.com opinion piece titled "Facts don't support Obama's charges against Romney:"
Let me acknowledge upfront what I have said several times on CNN: I have a past relationship with the top partners at Bain that is both personal and financial. I have worked with them in support of nonprofit organizations such as City Year. I have given a couple of paid speeches for Bain dinners, as I have for many other groups. I was on the board of a for-profit child care company, Bright Horizons, that was purchased by Bain Capital. It was a transaction with financial benefits for all board members and shareholders, including me.

So, yes, I have a bias. But let me also add how that bias plays out: I have come to admire and like the leaders of Bain Capital because I have learned firsthand that in a private equity industry, where there are obviously some predatory companies, Bain stands out for the respect in which it is generally held and for the generous philanthropy of some of its partners. Nothing I have seen so far has shaken that view.
Gergen has mentioned the relationship before both on air and online, including in a January editorial where he notes that "I have worked with today's Bain partners on several projects, mostly revolving around nonprofits, and I have found them to be highly professional, socially committed individuals."
A CNN spokesperson told The Huffington Post that Gergen has not had a relationship with Bain for a number of years, adding that he will continue to disclose his past ties with the company should he report on it again in the future (which, given his role at the network, is incredibly likely):
Last week a CNN producer asked several reporters and analysts, including David Gergen, to follow up on questions about Gov. Romney's exit from Bain. At the time, the CNN producer was unaware that David had past financial ties with Bain years ago. In a later conversation, when David disclosed this past relationship, all agreed that he would be transparent with a full disclosure when he appeared on CNN later that night. The disclosure was also included in David's weekend op-ed.
The Daily Beast's Andrew Sullivan reacted to Gergen's recent disclosure by deeming him "part of the problem" at a time when media pundits and politicians — those who makes and package our news — pursue and maintain (sometimes lucrative) ties to the business world while finding themselves in a position to comment on this very world as a perceived impartial party:
Just as so many of Washington's media elites could not bring themselves to indict their friends and business partners for war crimes – even though the evidence was overwhelming – so now buck-rakers like Gergen, knee deep in corporate cash, defend the men who helped them get rich. Gergen is part of the problem, not the solution.
h/t Huffington Post
Have a tip we should know? tips@mediaite.com