CNN's Poppy Harlow Grills Trump Fan: What 'About His Temperament' Tells You He Can Be POTUS?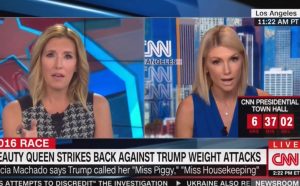 Brandie Roderick is a Donald Trump supporter. She's also the Apprentice contestant to whom Trump once infamously said, "It must be a pretty picture, you dropping to your knees." She appeared on CNN's Newsroom today to talk about the allegations being made against her candidate by former Miss Universe Alicia Machado. 
Machado has claimed he insulted her for her weight and ethnicity, invited reporters to watch her work out without telling her his plans, and ultimately led her to develop eating disorders. Roderick told Poppy Harlow that if her children said those things, she'd wash their mouths out with soap, but that Trump is still very much fit for the presidency in spite of what he has said about Machado as recently as yesterday.
Roderick plugged her stint on Baywatch as a way to point out that people whose jobs require them to look a certain way don't have the option to gain weight as Machado did. Harlow interrupted her, saying that the retaliatory move of making reporters show up to a workout session was inappropriate. Roderick attempted to write that off as Machado fulfilling her duties of promoting a healthy lifestyle.
After Harlow refused to back down and even showed examples of Trump's demeaning quotes about women, Roderick went on to admit that yes, her candidate needs a "soft filter," and yes, he should apologize to Machado.
She did, however, claim that his remarks about her looking good on her knees were "completely innocent."
Watch above to see Harlow not let Roderick get away with a single deflection.
[image via screengrab]
Have a tip we should know? tips@mediaite.com