'Let Me Finish': CNN's Poppy Harlow Hammers Trump Supporter During Truly Wild Segment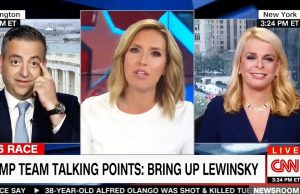 CNN's Poppy Harlow has been working overtime these last few days, for sure. She invited Donald Trump supporter Betsy McCaughey on Newsroom today and had to interrupt her to keep her on track multiple times.
When Harlow wanted to talk about Trump's attacks on Alicia Machado's weight, for instance, McCaughey tried to link anorexia and Hillary Clinton, who she claimed is exploiting anorexic women for political gain by using ads that feature young girls looking into mirrors while disparaging Trump quotes play. Harlow had to reel her back in on that one, just as she had to when McCaughey attempted to deflect after being asked if she'd reviewed any of the Trump campaign talking points CNN has gotten ahold of today. (Don Lemon revealed today that many of those talking points center around Bill Clinton's infidelity, which isn't ideal, considering Trump has been open about cheating on his own wives in the past.)
"Let me just finish," McCaughey said to Harlow on a number of occasions. (Harlow also told McCaughey, "Let me finish, please.")
Harlow wasn't in the mood to be derailed and instead continued pressing her guest on body image. Specifically, she asked how McCaughey could be upset that Clinton used body image as a focal point in an ad but not be upset about the numerous public comments that Trump has made disparaging women's bodies.
McCaughey doggedly defended Trump, even as Harlow reminded her that Machado has accused him of being the reason she was anorexic and bulimic for many years. Harlow reminded McCaughey that she was the one who brought up anorexia, then asked her to respond to allegations that her candidate caused someone to develop it. They talked over each other almost the whole time.
Watch above.
[image via screengrab]
Have a tip we should know? tips@mediaite.com