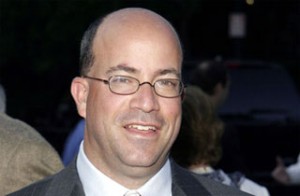 CNN chief Jeff Zucker spoke about press accountability and accessibility tonight at a Committee to Protect Journalists dinner tonight, just one day after he and others from TV networks had an off-the-record meeting with Donald Trump.
Trump reportedly singled out Zucker and CNN in particular during the meeting and said the network was full of liars.
Zucker did not talk about what exactly happened in the room––given the whole "off-the-record" part––but he did say this, per CNN's Brian Stelter's report on the event:
"I want to use this occasion to reiterate what I said directly to the president elect yesterday. As the new leader of the free world, we expect that he will preserve longstanding traditions that ensure coverage of his presidency."
Zucker talked about how vital the role of a free press is in the United States and said, "We will hold the new administration's feet to the fire. And they should respect that, even if they don't welcome it."
(According to BuzzFeed's report on the event, there were "some laughs" in the crowd in response to that comment.)
Zucker said news outlets certainly have "some reason for concern" over Trump's relationship with the press in the White House, which is why he emphasized how important it is for the press to play its role.
He invoked both CNN's own Christiane Amanpour and the late Gwen Ifill to make this point:
"We are fortunate to live in a nation where tenacious journalists like Christiane and Gwen can challenge authority without fear of reprisal," he said. "We must collectively ensure that this remains the case here at home, while we continue to fight for these values around the world."
[image via Shutterstock]
— —
Follow Josh Feldman on Twitter: @feldmaniac
Have a tip we should know? tips@mediaite.com
Josh Feldman - Senior Editor