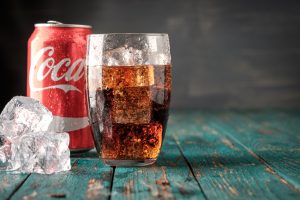 Soda is out. Foodie culture has taken over and as people's palates become more sophisticated, they're drinking less and less soda. Coca-Cola is trying to combat that with a new initiative that aims to show that Coke goes with everything.
According to the Associated Press, The company made a TV ad that features a young couple drinking Coke while they make paella. Food bloggers are also now doing paid posts that feature the product next to fancier items.
Typically, when we think of Coca-Cola, we think of pizza and hamburgers. An online ad on Vox Media's sites claims, however, that "It's an Amateur Move to Limit Coca-Cola to Fast-Food," because it goes with everything.
The AP also obtained a memo that instructed the influencers not to show the soda next to photos of foods that are "grossly unhealthy" or too "indulgent."
John Fischer of the Culinary Institute of America says it's not just Coca-Cola's image that makes people want it with fast food. It's that Coca-Cola actually goes well with fast food, and it doesn't go so well with fancier items. "Coke is a fairly powerful flavor — it could obliterate more delicate flavors," he told the AP.
But, Fischer says, if Coca-Cola has a "say it until it's true" motto, people may start drinking Coke with everything and become accustomed to it. Who says Coke can't go well with foie gras?
[featured image via Fotoatelie / Shutterstock.com]
Have a tip we should know? [email protected]