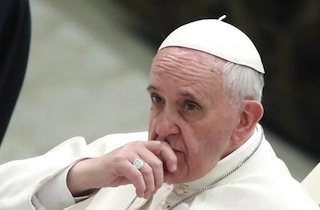 From his opinions on social justice and unchecked capitalism, to his relatively liberalizing statements about homosexuality and his commitment to an ascetic personal lifestyle – in other words, for actually following through on the whole WWJD? question – we've taken to calling Jorge Bergoglio, who records under the stage name Pope Francis, the Coolest Pope Ever. But he may be taking that designation a little too seriously. A report from the Associated Press in Berlin today says that German officials seized a shipment of cocaine that was addressed to the Vatican.
The shipment, which was snatched at Leipzig Airport in January, included 12 ounces of cocaine in 14 condoms, which would also represent a pretty big 180 on the Church's stance on birth control.
It's not as if the pope, who once, amazingly, worked as a night club bouncer in Buenos Aires, which I'm pretty sure is a first for popes, wouldn't have encountered the stuff once or twice, if only to confiscate it from unruly patrons. But there are no indications that the drugs were actually intended for officials in the Vatican itself. Although if you wanted to ignore that and make a racist joke about the first South American pope changing the culture of the papacy this would be a pretty good opportunity to do it now. I'm sure the gang on #tcot would love it. Belgium's De Morgen newspaper has already broken the ice on the joke set up with their black president/monkey legalizes weed joke this weekend.
In other papal news, the Vatican announced the members of the Pontifical Commission for the Protection of Minors this weekend, a group meant to address the continuing issue of sexual abuse that have plagued the Church in recent years.
[Image via Remo Casilli/Reuters]
– –
>> Luke O'Neil is a journalist and blogger in Boston. Follow him on Twitter (@lukeoneil47).
Have a tip we should know? tips@mediaite.com