Colbert Drops Character, Delivers Hilarious Introduction For Sister At Bowling Fundraiser
Colbert Drops Character, Delivers Hilarious Introduction For Sister At Fundraiser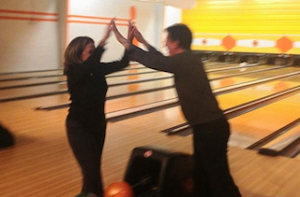 Stephen Colbert announced on Late Night with Jimmy Fallon last week that he would be hosting a fundraiser for his Congressional candidate sister at a South Carolina bowling alley this past weekend, and the late night host did not disappoint. Colbert treated the crowd in attendance to a heartfelt endorsement of Elizabeth Colbert-Busch, noting that she's the first political candidate he's actually supported.
Discussing the "character Stephen Colbert" from The Colbert Report, he said, "He talks about politics all the time, and he has stuck his toe in the waters of American politics, and occasionally his finger in the eye of American politics, but I have never actually supported any candidate before." Colbert added that if he didn't support Colbert-Busch, he 92-year-old mother would be very "disappointed."
From there, he went on to praise his sister, retelling some of the charming childhood stories he shared during the only time he has discussed her candidacy thus far on his show and sharing details about her career.
His relatively private speech, now public thanks to one YouTube user in attendance, was also a rare chance to see an out-of-character Colbert. Rather than use his right-wing pundit guise to ironically mock Republicans, he went after them directly for opposing no-brainer legislation like the Violence Against Women Act.
One of the biggest cheers Colbert received during his speech came when he said South Carolina's first Congressional district needs Colbert-Busch "not just because she's hard-working and talented and intelligent and dedicated. But because she's sane!"
Watch video below:
[Image via NY Daily News]
—
>> Follow Matt Wilstein (@TheMattWilstein) on Twitter
Have a tip we should know? tips@mediaite.com