Colin Kaepernick Has Been Wearing Socks at Practice Which Depict Police Officers as Pigs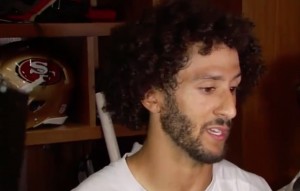 Colin Kaepernick's protests of police brutality against people of color have gained national attention since he was seen sitting for the National Anthem prior to the San Francisco 49ers Aug. 26 preseason game. But a new report indicates that his acts of protest go back several weeks, and extend to more than just his refusal to stand for the Anthem.
According to CBS Sports, Kaepernick has been wearing socks at team practices which appear to depict police officers as pigs. He's reportedly been wearing the socks since Aug. 10.
Apparently, Colin Kaepernick is also doing some protesting with his socks #49ers https://t.co/AxqsabtCms pic.twitter.com/RI9k1sW7he

— John Breech (@johnbreech) September 1, 2016
The socks appear to show caricatures of pigs wearing blue police hats. It's unclear how often Kaepernick has worn them. According to the CBS report, the quarterback has not yet been asked about his socks.
Colin Kaepernick's practice socks portray police officers as pigs (via @johnbreech) https://t.co/T8D1RK2fY9 pic.twitter.com/jj7BsAUfLn

— Charlie Spiering (@charliespiering) September 1, 2016
Kaepernick's 49ers play the San Diego Chargers tonight. Prior to the game, 240 people serving in various branches of the Armed Forces are scheduled to present the Colors. The San Francisco Gate reports that Kaepernick will again sit for the Anthem tonight.
If a Wednesday article from Bleacher Report is accurate, many team executives believe tonight could very well be Kaepernick's last NFL game. The Bleacher Report story polled seven anonymous team executives, all of whom expected Kaepernick to be released by the 49ers, and not picked up by anyone else.
[h/t The Big Lead]
[image via screengrab]
–
Follow Joe DePaolo (@joe_depaolo) on Twitter
Have a tip we should know? tips@mediaite.com
Joe DePaolo - Senior Editor