Comedian Chris Gethard Talks To Mediaite About Finding The Future Of Entertainment Via Public Access TV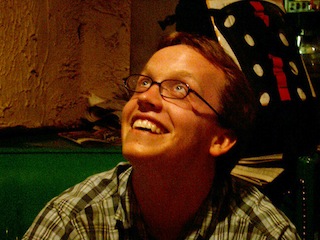 If someone flips by the Manhattan public access on Wednesday nights and catches The Chris Gethard Show, it's unlikely that they're going to say to themselves, "Ah, now here's the future of television." A goofy, low-budget show featuring a bunch of comedians and self-admitted weirdos taking calls from strange and sometimes hostile New York citizens doesn't initially scream out "innovation." However, for those that stick around, it gradually becomes clear that Chris Gethard and friends are doing something very interesting.
In addition to airing in New York, the show is streamed live out on the Internet and is steadily building a devoted following of comedy nerds across the country. By combining the approach and aesthetic of a cult public access show with the streaming and interactive capabilities of a high-tech Internet property, the show has found a fascinating middle ground between the old and new.
In a lengthy conversation, we talked to Gethard about the genesis of the show, his thoughts on public access and social media, and the crazy and wonderful people with whom he shares the network.
First though, some background.
Gethard is not your typical public access host. A hero in the New York comedy community, just a few years ago he was starring in his own Comedy Central series, Big Lake. However, his self-deprecating and off-beat voice, typified by his extremely uncomfortable interview with an online critic, might never have been a perfect match for a mainstream (or mainstream-ish) sitcom. He seemed much more at home during the popular late night live variety show he hosted once a month at New York's Upright Citizens Brigade Theatre. This was the original Chris Gethard Show.
It was during this time that he really began experimenting with social media promotion. This approach famously culminated in a year-long Twitter campaign to get Sean "Diddy" Combs to appear at the show. Shortly after he successfully got one of the most famous men in the world to show up at a random, nerdy variety show in a basement theater in New York, Gethard made a surprise announcement; he was ending "The Chris Gethard Show."
A month or so later, he made an arguably more surprising announcement; a new version of the show was coming back. Weekly. On public access television.
In the couple of months it's been on, the show has featured Gethard and a panel of his friends, celebrities like SNL favorites Horatio Sanz and Bobby Moynihan, and a character named The Human Fish, a man in goggles and a bathing suit who speaks in riddles and comes from the sea. One of the other stars is a young woman who goes by Random Jean. Jean was a random viewer who caught the show by accident during its second episode, called in to ask what she was watching, and was invited to come down to the studio. She's been in every episode since.
Two weeks ago, we at Mediaite were writing up comedian Connor Ratliff's hilarious parody presidential campaign which he premiered on Gethard's show. As this writer explained what the show was to the Mediaite editors, it became clear that this was an interesting example of the do-it-yourself approach that was revolutionizing entertainment in the "upload" digital era. We contacted Gethard and he was nice enough to give us an interview.
Have a tip we should know? [email protected]