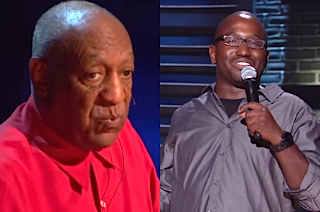 When the new Bill Cosby biography, titled Cosby: His Life and Times
, came out earlier this year, one of the primary criticisms was the way it omitted the many accusations of rape and sexual assault against the iconic comedian over the years. But now, rising star comic Hannibal Buress has apparently made that side of Cosby's legacy part of his own stand-up act.
In fan-captured footage from a show he performed last Thursday at Philadelphia's Trocadero Theatre, Buress contrasted the wholesome persona that Cosby projects on stage and in his media appearances with the alleged crimes he has committed against women.
"Thirteen," Buress said, referring to the number of accusers reported in a piece from Gawker. "It's even worse because Bill Cosby has the fucking smuggest old black man public persona that I hate. He gets on TV, 'Pull your pants up black people, I was on TV in the 80s! I can talk down to you because I had a successful sitcom!' Yeah, but you rape women, Bill Cosby, so turn the crazy down a couple notches. 'I don't curse on stage!' But yeah, you're a rapist though, so…"
RELATED: Bill Cosby Tells Don Lemon Black Men Need To Raise Their Kids, Has Message For 'No-groes'
"I guess I want to just at least make it weird for you to watch Cosby Show reruns," Buress continued. "Dude's image, for the most part, is a public Teflon image. I've done this bit on stage and people don't believe me, people think I'm making it up. 'Bill Cosby has a lot of rape allegations.' 'No, you do!'"
"When you leave here, Google 'Bill Cosby rape,'" he said. "That shit has more results than 'Hannibal Buress.'"
Despite the large number of accusations, Cosby has never been charged nor convicted with any crimes relating to the alleged incidents. Currently, the 77-year-old comedian has a new sitcom series in the works with NBC.
Watch video below, via YouTube:
[Photo via screengrab]
— —
>> Follow Matt Wilstein (@TheMattWilstein) on Twitter
Have a tip we should know? tips@mediaite.com