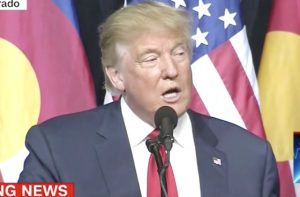 The Committee to Protect Journalists put out a pretty blistering statement today against Donald Trump, whom they consider to be a "threat to press freedom."
The group itself acknowledges this is an "unprecedented step" for them, but still says it's important to sound the alarm about Trump's "threats and vilification of the media during his campaign."
And here's how far they're taking this:
Donald Trump, through his words and actions as a candidate for president of the United States, has consistently betrayed First Amendment values. On October 6, CPJ's board of directors passed a resolution declaring Trump an unprecedented threat to the rights of journalists and to CPJ's ability to advocate for press freedom around the world.

Since the beginning of his candidacy, Trump has insulted and vilified the press and has made his opposition to the media a centerpiece of his campaign. Trump has routinely labeled the press as "dishonest" and "scum" and singled out individual news organizations and journalists.
They're concerned about how so many Trump supporters have threatened the press without hearing one word of scolding from him. And Trump's occasional threats to media organizations regarding lawsuits and libel laws makes it clear he cared nothing for the principles of a constitutional free press.
"A Trump presidency would represent a threat to press freedom in the United States," the CPJ warns, "but the consequences for the rights of journalists around the world could be far more serious. Any failure of the United States to uphold its own standards emboldens dictators and despots to restrict the media in their own countries. This appears to be of no concern to Trump, who indicated that he has no inclination to challenge governments on press freedom and the treatment of journalists."
Trump's latest feud with the press involves the threat of a lawsuit against the New York Times over a report they ran on two women making allegations of inappropriate sexual contact against him.
[image via screengrab]
— —
Follow Josh Feldman on Twitter: @feldmaniac
Have a tip we should know? [email protected]
Josh Feldman - Senior Editor