Conan! Jon Hamm, Larry King, The Godfather and A Joyous Return To Late-Night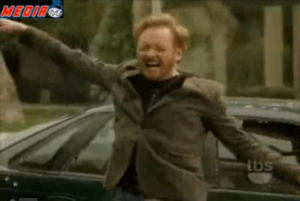 Well hello there, stranger! Welcome back! It's been a while. Actually, it hasn't really been a while — in fact, over the past few months it feels a lot like Conan O'Brien hasn't really left. Well, to us — we are all well-acquainted with just how aware he is of having lost his late-night perch in the chair at The Tonight Show at NBC. And to whom. (Jay Leno – just getting that out of the way.) Since he stepped down last January after a dizzying two weeks of cross-monologue sniping between late-night hosts onscreen and a frenzied tangle of back-room negotiations offscreen, we've seen him pop back up on Twitter, on a cross-country tour, on 60 Minutes, on redheaded signs at cross-country rallies, on Tumblr, in the studio with Jack White, randomly at Google, briefly and awkwardly at the Emmys, in various pre-show promos including one that had him oddly and alluringly wet, duped and ousted all over again in Vanity Fair, embodied by a giant orange blimp — all, finally, leading up to this night that seemed so far away on the calendar through the passing months: November 8th, and the debut of "Conan" on TBS.
Somewhere on another network, the Daily Show proceeds as planned, picked up faithfully by my DVR and the DVRs of many; that will probably change in the coming weeks as the TV-event-viewing nature of Conan's new show gives way to the regularity of the increasingly crowded late night schedule. He and his team no doubt hope the DVR wills swing the other way, and the next-day pickup keeps him pumped into the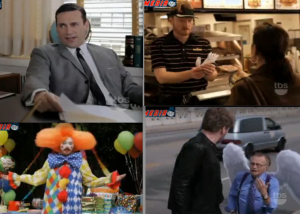 bloodstream of the national conversation. In the meantime, though, there's a show to open — and it was pretty good! For purists, there's no matching the energy, hilarity, scope and excitement of last year's cold open, his cross-country sprint to the strains of Cheap Trick's "Surrender" (now impossible to find on any NBC property) — but this one holds its own, with some Goodfellas and Godfather nods, cameos from Larry King (meta?) and Jon Hamm (finally, he learned how to use him!), a clown suit (and a joke I think I recognized from his tour), a few more cracks about basic cable — and finally, a happy return to the stage. Will it be as good as his last show? Will it be enough to beat Jon Stewart? Will Leno get a bump from people wondering what he'll say in the monologue? Do you think Jeff Zucker is watching? These are questions that I can't answer right now, especially since I don't happen to DVR Leno. But either way, we all get to be part of Conan making TV history for the second time, tracking him on this very transparent step-by-step journey back into the nightly risk of late-night comedy. Now that I think of it, maybe that double firing squad was a metaphor.
Video of the cold open below:
Have a tip we should know? tips@mediaite.com