Concha: By Publishing Darren Wilson's Street, NY Times on Level of Hacktivists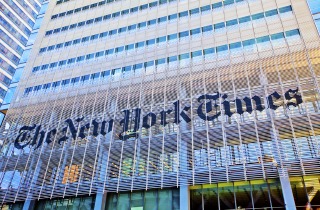 The New York Times has always been considered the top of the mountain on the journalism front. Now in existence for 163 years and having won 114 Pulitzers since 1918, its power is unmatched by any other print publication.
But as Voltaire once wrote, and uncle Ben Parker later said, "With great power comes great responsibility." And the Times really blew the last part of the previous sentence is spectacularly bad fashion recently. As you may have heard by now, the Old Gray Lady felt it pertinent to publish the street of Officer Darren Wilson's home, which is totally relevant to the grand jury decision announced on Monday. The paper also proceeded to offer up Wilson's marriage license, which happened to include the name of his wife, a fellow officer. Here's how the Times printed this information (with street name and town redacted by Mediaite):
Officer Wilson and [his wife] own a home together on XXXXXXXX Lane in XXXXXXXXXX, Mo., a St. Louis suburb about a half-hour drive from Ferguson.
Regardless of your thoughts on Wilson's guilt or innocence, how can anyone believe providing his street and name of his wife be anything but irresponsible? Still, the half-hour drive info is a nice touch in case bus fare needs to be worked out beforehand.
For starters, how would you like be any resident on that street right about now? Do you think anarchists–the ones who only exist in Ferguson to ferment mayhem and destroy property–won't just guess which home belongs to Wilson before simply burning the whole block down anyway just for fun? It's not like we didn't see that happen to stores owned primarily by African-Americans on Monday night. And if that doesn't happen, what exactly does a person's residence have anything to do with the shooting and legal process that followed? Same goes for Mrs. Wilson, who had nothing to do with what happened that afternoon in Ferguson on August 9th.
So now the Times is reduced to being the elitist version of Hacktivist, the online group that once released the wrong name of an officer–along with the address of his home–that it claimed killed Michael Brown (this was obviously before Wilson's name was later confirmed as the officer involved). Here's what happened as a result of Hacktivist's actions: The falsely-named officer's stepmother–who lived at the address released–was forced to sleep with a gun next to her bed. She also happens to be disabled via a birth defect, meaning she has an artificial leg and five misshapen fingers, according to a report by USA Today at the time. Stay classy, Hacktivist.
The Times has since released this correction:
An earlier version of this post included a photograph that contained information that should not have been made public. The image has been removed. However, the "information that should not have been made public," in the Times' view, is not the name of the street where Officer Wilson's home is located. The story still contains that information. The Times has merely removed the photo of Wilson's marriage license from the article.
If that sounds a little confusing, it's because it is. Note: Despite appearances, the address on the license does not belong to the couple. Instead, it appears to be of the address of county building where the judge who performed the ceremony is employed. The street where the couple lived is still part of the story via the Times' online version. Add it all up, and maybe it's time to avoid printing this kind of information in any capacity in sensitive moments like this, right?
The Times needs to do more than a simple correction. It's executive editor Dean Baquet needs to issue a personal apology as soon as possible.
With great power comes great responsibility. And that starts at the top of a publication once considered the top of the mountain of journalism. A publication–at least in this instance–has been reduced to the swamp of the likes of Hacktivists of the world instead.
[Correction: This column originally identified Peter Parker as repeating Voltaire's famous quote. However, it was Peter's uncle Ben. Sorry. Happy Thanksgiving.]
— —
>> Follow Joe Concha on Twitter @JoeConchaTV
Have a tip we should know? tips@mediaite.com