Concha: CNN's Cuomo Interviewing NY Gov Cuomo On Train Tragedy Much Ado About Nothing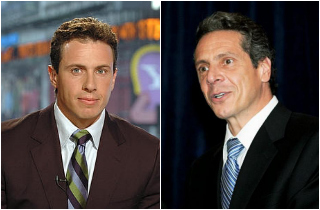 Chris Cuomo is an anchor on CNN's New Day (Disclaimer: I've appeared on this program twice before).
Andrew Cuomo is the Governor of New York.
On Sunday, a Metro North train derailed in the Bronx. Four people killed, 63 injured. This was obviously the lead story on all of the cable networks on Sunday.
This morning, the aforementioned Chris Cuomo interviewed his older brother Andrew on New Day. When comparing the Q&A to others the Governor conducted throughout the morning—as is customary for any state leader to do after an event like this—the CNN interview was generic, textbook, standard: How did this happen? Why did this happen? What happens next in terms of investigation?
But there are some in media this morning questioning/mocking whether family members should ever interview each other in these situations. "Conflict of interest" is the most common complaint. But given that a fatal train derailment is a non-political story, one that doesn't require spin or softball questions to make the interviewee—in this case, Andrew Cuomo—look good, the controversy is much ado about nothing.
The only minor mistake made by CNN's Cuomo was not providing a disclaimer during the intro. That said, the anchor did note the two were brothers about 40 seconds into the interview, but starting out the conversation while making that point would have followed the standard interviewing rule around providing-disclaimers-before-asking-the-first-question.
Family members have interviewed each other before: Fox's Greg Kelly interviewed his NYPD Commissioner father Ray Kelly on Fox-5 (an NYC Fox affiliate) about a terror arrest. Chelsea Clinton sat down on camera with Hillary while she was Secretary of State…a fairly generic conversation that touched on the role of government that was picked up by many major news outlets (said conversation was recorded on stage during at a Clinton Global Initiative event).
Chris Cuomo interviewed his brother Andrew today.
The exchange concerned a tragedy, not a re-election effort or policy push. If those items were the play, criticism would be completely warranted.
But as far as the interview this morning, there's nothing to see here.
>>Follow Joe Concha on Twitter @ConchaMedia
Have a tip we should know? tips@mediaite.com