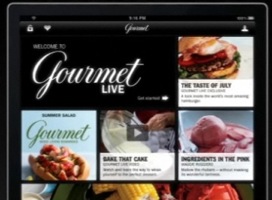 Gourmet Lives! Conde Nast CEO Chuck Townsend just announced plans to bring back the recently shuttered food title, not as what previously existed in print, but rather as a digital interactive experience that leverages its massive database of recipes, branded merchandise and social network. "We see tremendous upside in leveraging social networks," said Townsend, and Gourmet Live appears to be the trial balloon.
During a morning press event at Condé Nast Times Square offices today, Bob Sauerberg, the Executive Vice President, Consumer Marketing spoke to the importance of the timeless property of Gourmet and Conde's partnership with digital consultants Activate, who were tasked with re-imagining the brand experience of Gourmet. The end result? Gourmet Live, which will plan go live in the fourth quarter of this year.
The specific plans for Gourmet Live are in its earliest iteration, but judging purely by the savvy rhetoric, Conde Nast executive seem to know what they are doing. Current plans, announced by Activate's Anil Dash essentially focus on "suffusing the really great content in the Gourmet with tradition, with state-of-the-art social media, networking and collaborative game playing engine," all on a digital tablet platform or iPad. Yes, collaborative game playing and geocentric alerts (think FourSquare-enabled Gourmet) all coming from a 100 year-old Conde brand. Good news indeed.
Looking back at the last year for Conde, this can only be viewed as really good news. There was much gnashing of teeth and roaring of roars from the legion of loyal Gourmet readers when Condé Nast announced that it would be shuttering the title last year. Loyal (and technologically advanced) fans will surely be thrilled with news of the brand's resurrection.
Condé Nast digital strategists should be lauded for not just saving Gourmet, but also unveiling some very smart thinking in leveraging the Gourmet brand and content as a means to transition from the static content delivery schedule of once a month, to a live user-generated content engine that enables a new experience every time a user logs on. And while strategy is smart, the tactics needs some work (as the video demo is not embeddable at time of publishing.) To see the demo check out the Gourmet Live blog.
Nonetheless, the announcement of Gourmet's return is great news, not just for fans of the title, but for aficionados of quality and authoritative content as well.
Have a tip we should know? tips@mediaite.com