Alvin Greene Would Like Someone To Reveal Why He Was Discharged From Military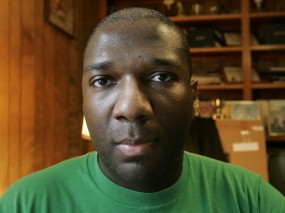 It's hard not to wonder whether this is a cry for help or merely an ingenious move to remain in the news cycle. Time's Michael Scherer reported yesterday that during a recent interview with Alvin Greene, South Carolina's embattled and mysterious Democratic nominee for the U.S. Senate, Greene encouraged Scherer to dig into his military history, something that he has thus far refused to talk about in the press. From Scherer:
I asked Alvin Greene if there was anything that had not yet been written about by the press that he wanted to get out. "Bring the Air Force discharge up," Greene replied. "Y'all go and get that."

This was not the response I had expected. Greene has based his candidacy, in large part, on his military service—a total of 13 years in the South Carolina Air National Guard, U.S. Air Force, Army National Guard and U.S. Army. Tarnishing this record are the mysterious circumstances around what he calls his "involuntary" discharges from the U.S. Air Force and the U.S. Army. In both cases, he has refused to detail the reasons for his dismissal.
Alas, Greene would not give permission to one of his former officers to discuss his service, though according to Scherer "he says he expects the information to come out eventually, and he suggests that he will not be unhappy when it does." Uh huh. I think the official term for this behavior is 'political tease.'
I'm not sure what Greene's motivation for jerking the media's chain on this is, unless he is hoping to keep his name in the press long enough that come November voters who haven't been paying attention to details will vote for him (again?) based on name recognition. Meanwhile, the mystery, such as it is, deepens.
Have a tip we should know? tips@mediaite.com