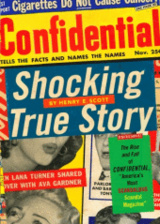 In the mid-1950s Confidential was ruining the marriage of Desi Arnaz and Lucille Ball — at least in the eyes of the American people. "'I knew Desi was inviting me for more than a drink,' said the babe," according to the damning story. Thing is, the "babe" was a prostitute, paid by Confidential, one of the nation's first gossip magazines and the subject of the new book Shocking True Story, reviewed today in the New York Times.
But it was especially telling when Gawker overlord Nick Denton tweeted last week, "Decades before Gawker and TMZ, there was Confidential, the original gossip rag," before linking to an excerpt of the book, published, appropriately, on Gawker.
The aforementioned Lucy anecdote, from a story entitled "Does Desi Really Love Lucy?", is just one of a handful of salacious early gossip bits pulled from the mag's past and Shocking True Story for Janet Maslin's Times article today. The rest include nuggets about the likes of Joe DiMaggio, Marilyn Monroe and Adlai Stevenson. Or, yesteryear's Brad Pitt, Angelina Jolie and John Edwards.
In short, Confidential beget not only today's gossip pages and glossy celeb weeklies, but a large swath of the most popular pages on the internet, from Gawker to TMZ and Perez Hilton. It's a connection that is interestingly left out of Maslin's write-up about the book detailing Confidential's existence, but for pop culture news consumers the parallels are clear. Denton's site in particular has been especially savvy at bringing the ruthless, pot-stirring irreverence of Confidential-era reporting, paying for sex tapes and scoops on Balloon Boy alike.
Ostensibly, today's Maslin piece is a book review, but along with Shocking True Story, it doubles as an excavation of a magazine long since forgotten by many, but knowingly or not, used as a bible by a handful of influencers.
Have a tip we should know? [email protected]