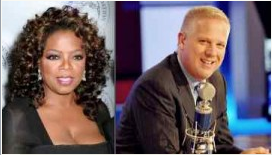 Hang on to your chalkboards folks. According to the latest Harris poll, Glenn Beck is the second most popular television personality in America….second only to Oprah Winfrey. This marks Beck's debut on the list, a list on which Bill O'Reilly has never reached higher than third spot. This year Beck beat out Jay Leno (the poll was conducted pre the Team Coco wars), Ellen DeGeneres, Hugh Laurie, Jon Stewart, Charlie Sheen, Mark Harmon, David Letterman, and Bill O'Reilly. In that order.
There are a couple of things worth noting here I think. Number one, this is an enormously mainstream list, meaning Beck has managed to launch himself out of the political fringe and into the mainstream consciousness. I speculated back in November that between his focus on books, and his 9/12 movement, and his re-founding Beck was positioning himself as the next Oprah, and it looks like the country may agree! Further proof: according to the breakdown "Glenn Beck is the favorite for both Republicans and for Conservatives, but, interestingly, also for Independents. Oprah Winfrey is number one for Democrats and Moderates, while Jon Stewart is the favorite for Liberals."
Also for Independents. That's the kicker. I'm not sure whether this is a measure of how politicized the country has become over the past year, or merely of Beck's appeal…I would imagine a combination of the two. It should also be noted that, unlike past polls Beck has 'ranked' well on despite receiving a small number of votes, this poll does give percentage breakdowns. Meaning that we don't know whether 98% of the population likes Oprah and the remaining two percent is split on the other nine. Regardless, Beck is still beating out everyone else making one thing very certain: he is a side show no more, by any stretch.
Have a tip we should know? tips@mediaite.com