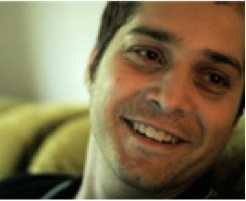 Andrew Sullivan's blog at The Atlantic is adding a major name to the masthead with news that Conor Friedersdorf is joining the blog as a "senior editor." In addition to Friedersdorf, Sullivan is adding a new staffer–Zoe Pollock–to focus on behinds-the-scene work and to some "underblogging."
Friedersdorf, a former Sullivan intern, has made a name for himself over the last two years as one of the most promising conservative writers and thinkers.  He writes at the American Scene, Forbes, Daily Beast, and the late True/Slant and was involved in the well-thought of, but failed, Culture 11.His take-downs of Mark Levin and Andrew Breitbart, as well as concern over conservatism's "narrative" problem have given him a major following and reputation.
In explaining Friedersdorf's new role, Sullivan said:
Conor Friedersdorf, no stranger to Dish readers, will be under-blogging with his usual range of interests and keen eye, but also focusing on both the degeneracy of the conservative movement, and the green shoots we are beginning to see of a saner, more imaginative, more traditionally conservative policy revival.
Sullivan described himself as "a kind of composer/disk-jockey for the music that we play" in attempting to explain the new set-up at The Atlantic's most popular blog. There has always been questions about how Sullivan operates his blog, especially in terms of the role of other staffers.  In December, there was a minor kerfuffle when one of Sullivan's staffers appeared to pull the curtain off the blog's workings
At that time, Sullivan was emphatic that The Dish worked better without attributing posts to a specific person since he was in control of the content and to the blog worked better if it "retain[ed] its identity as one single narrative conversation."
So why would Friedersdorf  join Sullivan as an "underblogger" while his star is on the rise and some have argued he should have his own blog at The Atlantic?  Friedersdorf answered some questions for Mediaite:
Mediaite: Are you going to have your own byline?
When Andrew Sullivan goes on vacation, I'll be guest blogging under my own byline. But usually, I won't be publishing things on the blog myself, or submitting anything in my own voice. I'll be directing his attention to items that fit the sensibility of The Daily Dish. He'll review those items, publish when he agrees with my curatorial judgment, and either add his own commentary when he has a take on the subject, or else just post what amounts to a link and an excerpt sans reaction.
Mediaite: You've created your own identity as a successful blogger/opinion writer, so why start working on a blog so closely identified with one person?
Andrew Sullivan is one of the bloggers who introduced me to the medium about a decade ago. The others are Mickey Kaus, Megan McArdle, and Glenn Reynolds. All are extraordinary talents, and I've learned a lot from their writing and watching the evolution of their Web sites. It's The Daily Dish that has changed the most. Nowadays it has daily features like A View From Your Window, it operates at a relentless pace like a broadcast, it features Andrew Sullivan's extended takes on numerous issues, and it acts as a curatorial resource for a readership that is as thoughtful as any I've ever experienced. Past stints guest blogging at The Daily Dish afforded a close look at its reader e-mails, and it's truly a pleasure to interact with a large online community of intelligent, delightfully diverse readers who are open to persuasion, rather than looking to consume only material that regurgitates what they already believe or else advances their ideological team.

In this new gig, I'll mostly be working on the curatorial aspect of The Daily Dish. In other words, I'll be getting paid to find exceptionally good writing and arguments on the Internet, so that an eager audience of thoughtful people can be exposed to them. That prospect is enormously appealing. Public discourse should function as a crucible, where ideas are tested, the best emerge strengthened, and the worst are destroyed. I also miss finding talented writers whose work deserves a wider audience. That was the biggest pleasure of being features editor at Culture11. In coming months, I hope I can alert Andrew and his readership to new voices.

Despite our differences on various specific matters, Andrew Sullivan and I share a commitment to an ongoing public conversation characterized by forceful disagreements, the airing of dissent, and a vision of readers as rational, mature, intelligent interlocutors. It's why The Daily Dish is a good fit at The Atlantic, and why I revere that institution. Is there any other venue where the folks in charge are as likely to link and excerpt the most forceful arguments contrary to their own? And we're all writing in the spirit "of no party or clique." As The Daily Dish continues to evolve, I trust that core aspect will remain a constant. As a result, I can contribute to a site whose ongoing success and constant improvement I very much desire, even as I pursue outside writing dictated entirely by what I think is right. When that happens to be in disagreement with Mr. Sullivan, who is never one to shy away from an argument, that probably just increases the chances that it'll get linked.

Mediaite: Are you going to continue your gigs at The American Scene, Forbes and The Daily Beast?

Emphatically yes.


The American Scene is a site for which I have great affection, and as long as they'll have me, I'll continue doing my best to live up to the exceptional groundwork laid by Reihan Salam and Ross Douthat, even if it means I'm always falling short of their examples and the posts published by my wonderful co-authors. I'm thrilled that my colleagues Lewis Dvorkin and Coates Bateman from True/Slant are bringing their insights to Forbes. And I love working with Tina Brown, Tom Watson and Bryan Curtis at The Daily Beast. Especially at a time when ever fewer publications are adding value in the editing process, no sane writer would turn down the chance for their feedback.

I've got other projects in the works too. Anyone interested can follow them all via the Twitter feed @conor64
Have a tip we should know? tips@mediaite.com