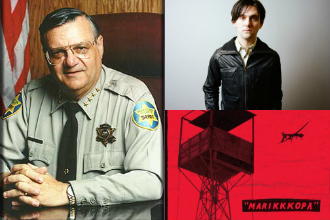 In a brand-new song, acclaimed singer-songwriter Conor Oberst, best known for his band Bright Eyes' melancholic folk songs, takes aim at Sheriff Joe Arpaio of Maricopa County, Arizona for his controversial anti-immigrant policies.
The song, titled "MariKKKopa" because of Arpaio's claim to be "proud" to be compared to the Klu Klux Klan, is an aggressive post-punk rocker featuring Oberst's early-2000s band Desaparecidos. The lyrics scornfully take on the point-of-view of a generic anti-immigrant, with a chorus that shouts: "We're gonna round 'em up / Door to door, the posse's ready / Knock, knock, knock / Drag them from their beds / Cause it's their turn for someone to get hurt."
Other parts of the song describe a "lynching at Home Depot of the last day laborer," seemingly in reference to Arizona's SB1070 law that attempted to end the hiring of day laborers. "It's time we had some justice for the white race on this earth," Oberst mimics what he feels is the racist attitude of Arpaio and his department.
The climax of the song features Oberst shouting the lyrics "They'll never learn / 'til Maricopa burns!" as a suggestion that Arpaio and his supporters act recklessly.
The song, available for purchase August 2nd, closes with a sample of Arpaio's 2007 interview on CNN, in which he told Lou Dobbs "I think it's an honor" to be compared to the KKK. "It means we're doing something."
Oberst is not a newcomer to political songwriting — much of his folk output has political undertones, especially the anti-G.W. Bush "When the President Talks to God," which he performed on The Tonight Show in 2005.
Check out the song below, via Desaparecidos:
(h/t Huffington Post)
— —
>> Follow Andrew Kirell (@AndrewKirell) on Twitter
Have a tip we should know? tips@mediaite.com