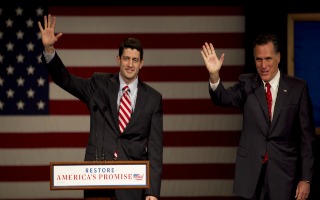 As Mitt Romney prepares to announce who will join him on the Republican presidential ticket in the fall, the buzz around Rep. Paul Ryan (R-WI) vice presidential potential is increasing in intensity. Several pundits have come out this week citing convincing polling data that suggests Ryan would be the best compliment to the Romney ticket. But, if Ryan does make the final cut, would the benefits he brings to GOP presidential campaign outweigh the costs?

On Wednesday, ABC News' Jonathan Karl reported that the Romney camp has narrowed their vice presidential preferences to two potential candidates. What's more, those two individuals have been put on standby for an announcement that could come at any day and without much in the way of prior warning.
Recently, several pundits have suggested that the enthusiasm that would motivate voters to come out and cast their votes for Romney is boosted most if he is joined by Ryan.
In July, The Daily Caller's Jamie Weinstein cited data from the Democratic polling outfit Public Policy Polling which showed that Ryan improves Romney's position in the battleground of Wisconsin (far more so than Ohio's mild-mannered freshman Sen. Rob Portman does in his home state).
"According to a PPP poll of Wisconsin from early June, Obama outpolls Romney in the state 50 percent to 44 percent. But with Ryan as Romney's running mate, Obama's lead narrows to just one percentage point," writes Weinstein.
New York Daily News columnist and MSNBC host S.E. Cupp writes that Ryan helps energize Romney's supporters. While she concedes that Romney's pick is not likely to reshape the race in any earth-shattering way, the injection of the enthusiasm that Ryan brings to the ticket in a tight race could tip the scales towards Romney.
"But more than just shoring up Romney's chances in Wisconsin, Ryan has the ability to excite the conservative base without turning off independents who are queasy about the more strident elements of the Republican Party," Cup writes. "Romney needs Ryan, and he knows it. Will he have the confidence to make the right call? Let's hope so."
Finally, American Enterprise Institute scholar Marc Theissen has joined the chorus lobbying for a Ryan selection. Theissen argues that Ryan would lend stature to Romney who lacks reformist credentials – in the same way that Dick Cheney's traditional conservatism added gravitas to George W. Bush's "compassionate" brand in 2000.
But I think Cheney's point – though he is too modest to put it this way – is that Romney needs to pick someone like Dick Cheney. George W. Bush didn't put Cheney on the ticket to win Wyoming's one electoral vote. He picked him because he was a) a strong conservative, and b) someone who was ready to step into the Oval Office from Day One.

That is precisely what Mitt Romney needs: someone who, like Cheney, is seen by conservatives as one of their own, and, like Cheney, will be taken seriously from the get-go as a potential president of the United States.
Of course, Democrats have made no secret of their desire to see Ryan grace Romney's ticket as his running mate. Ryan, the author of a budget reform proposal that dramatically shrinks the growth of entitlement spending, is a lightning rod for criticisms. Ryan's support of significant budget reforms have allowed Democrats to frame him as the personification of Republican efforts to shrink America's growing deficit at the expense of the working class and in favor of America's highest earners.
Ryan's plan, while admirable in its embrace of controversial reforms to sacrosanct programs like Medicare and Social Security, is also politically toxic. They don't call America's three big entitlement programs political "third rails" for nothing. In June, a CNN/ORC poll showed that 58 percent of the public opposes Republican plans to reform Medicare while only 35 percent support them.
That deficit of support could be due to a lack of education, but that requires the Romney ticket to sell Ryan's reform plan as the new Romney plan. What's more, they would spend most of the campaign defending the plan from ample Democratic attacks.
In an incumbent year where an up-or-down referendum on President Barack Obama is the most likely, and most desired outcome from a Republican perspective given the state of the economy, the surest way to derail the argument against President Obama is to put forward a polarizing and sweeping reform plan. That reality annoys many eager reformers on both sides of the aisle, but it is nevertheless the truth.
What benefits Ryan brings to the Romney ticket in places like Wisconsin could be countered in places like Florida and Ohio where moderate and independent voters oppose broad changes to entailment programs. If the oft-cited mandate for the Republican VP candidate to do no harm, the Romney team would be playing with fire by picking Ryan. Thus far, the Romney campaign has shown no inclinations towards embracing such a risky strategy — it would be a dramatic departure for them to go for broke with a Ryan VP pick now.
> >Follow Noah Rothman (@Noah_C_Rothman) on Twitter
Have a tip we should know? [email protected]