Conservative Author Tom Nichols: Trump Voters 'Are Just More Prone to Bad Information'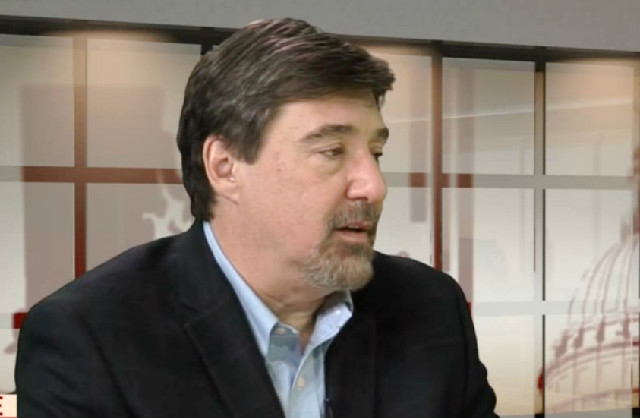 Over the weekend, #NeverTrump conservative Tom Nichols appeared on Mediaite columnist John Ziegler's podcast to discuss his new book, 'The Death of Expertise," and some of the latest news surrounding the whole saga involving President Donald Trump and Russia.
Regarding Trump's recent tweetstorm where he accused former President Barack Obama of wiretapping his phones at Trump Tower prior to the election, both Nichols and Ziegler appeared to agree that it would have made no sense for Obama to illegally wiretap Trump at that time, especially since everyone thought Hillary Clinton had the election in the bag. They also discussed while how Trump could have been explicitly lying, he may have actually believed what he tweeted because he consumed it from right-wing media.
Whether there's some fire to go with all the smoke surrounding Trump/Russia, Nichols said he feels there is something there, even if it may be a bit more subtle and not something like footage of Sergey Kislyak dropping off "a suitcase filled with money." Also, he explained that it will be the cover-up that ends up hanging everyone. Meanwhile, he warned liberals that the search for a "silver bullet" to try to end the Trump presidency is actually doing a disservice because a lot of other stuff that deserves attention isn't getting covered.
There was also a bit of discussion devoted to former Trump adviser Carter Page and his disastrous interviews last week on CNN and MSNBC. "The bigger question is how did that guy make it into the inner-circle of a future president?" Nichols asked, explaining how that is what should be concerning to many people when it comes to Trump/Russia.
The second half of the interview was devoted to Nichols' book, which he says he wrote because he became concerned that Americans had become so "willfully ignorant and intentionally uninformed" about their political processes and systems. Ziegler asked if his point is that we now live in a world where being an expert at something is seen as a negative.
The conservative author highlighted how conservative voters "are more prone to their echo chamber" and that's how they were more afflicted by a death of expertise than others, due largely to talk radio and cable news. "Keeping a very tight lid on their Facebook friends," he said. "Conservatives tend to have fewer friends who disagree with them on Facebook. They are just more prone to bad information traveling through them more quickly."
He further added that a lot of this is due to folks being able to graze and cherry-pick their own media to create echo chambers. There was also a bit if a discussion surrounding average Americans' narcissism that makes them believe that they know more than experts, with Nichols bringing up conversations he had with doctors who talked about patients coming in and telling them what they need to do.
Listen to the entire interview above.
[image via screengrab]
——
Follow Justin Baragona on Twitter: @justinbaragona
Have a tip we should know? tips@mediaite.com