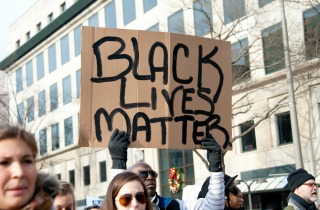 The Minnesota police sergeant who said in a Facebook comment that drivers should run over Black Lives Matter protesters officially resigned Wednesday.
In January, Jeffrey Rothecker commented under the name JM Roth on a news story about a protesters blocking traffic on Martin Luther King Jr. Day, and recommended the following:
Run them over. Keep traffic flowing and don't slow down for any of these idiots who try and block the street. Here is the deal, you continue to drive and if you hit someone make sure you call 911 to report the accident and meet the cops a block or two away and you can justify stopping further away because you feared for your safety since the past people in this group has shown a propensity towards violence. Since they are trying to block the street and/or cross where there is no crossing you should not be charged with anything. Now, these idiots could try and sue you in civil court, but remember that it will be jury trial and so most likely it will come out in your favor.
In response, the St. Paul Police Department opened an investigation into whether JM Roth was actually one of their own officers, declining comment until the investigation was complete. But any doubt about whether Rothecker was the commenter was settled when he issued a written apology.
"SPPD announces that Jeffrey Rothecker has resigned his position with the department, effective immediately," the police department announced Wednesday, after local leaders called on the department to fire him for weeks.
St. Paul mayor Chris Coleman said in a statement that he was satisfied with the decision. "The actions Mr. Rothecker admits he engaged in were disgusting, harmful and out of step with the values of the Department and the community it serves," he said.
[Image via Shutterstock]
——
>>Follow Alex Griswold (@HashtagGriswold) on Twitter
Have a tip we should know? tips@mediaite.com