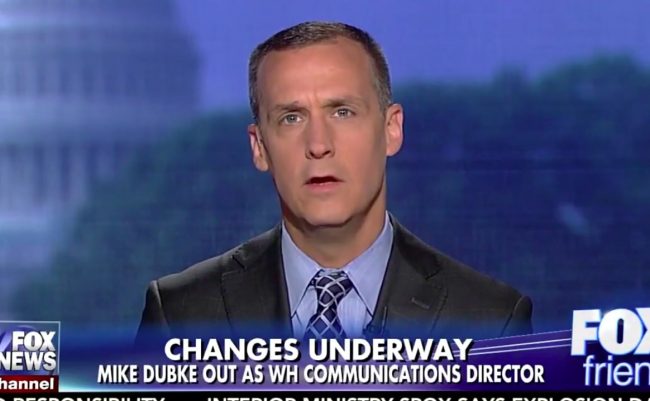 President Donald Trump's former campaign manager turned lobbyist Corey Lewandowski is closing in on a six-figure book deal, along with his former deputy David Bossie, according to Politico.
The report is sourced from someone close to the negotiations, who said the pair are looking at a "high six-figure book deal with Hachette Book Group's conservative imprint Center Street":
Mel Berger of WME Entertainment, the agent for Trump's first campaign manager Lewandowski and former deputy campaign manager Bossie, has fielded offers for the duo, and they are near agreement with the same imprint that has carried former House Speaker Newt Gingrich's books.
Politico notes that a Center Street spokesperson declined to comment, and that the deal is not yet finalized.
Lewandowski has had troubles with publishers in the past — in June 2016, after he was jettisoned from Trump's campaign, Lewandowski nabbed a $1.2-million offer from HarperCollins to pen a book tentatively titled "Let Trump Be Trump." HarperCollins rescinded the offer when Lewandowski declined to provide his nondisclosure agreement with the Trump campaign.
Lewandowski was back in the news recently, after it was reported Trump was looking to have him back in the White House to man his communications "war room." The former campaign manager recently left his gig on K-Street, after reports surfaced he was promising meetings with the president to foreign clients.
Since, Lewandowski has been making the rounds on cable news, not-so-subtly angling for a job in Trump's communications team.
As Politico notes:
Bossie and Lewandowski were interested in joining the administration, and Trump considered bringing them on as senior advisers as of last month. It's not clear how their plans to write a book together would affect any White House ambitions.
[image via screengrab]
—
Follow Aidan McLaughlin (@aidnmclaughlin) on Twitter
Have a tip we should know? tips@mediaite.com
Aidan McLaughlin - Editor in Chief