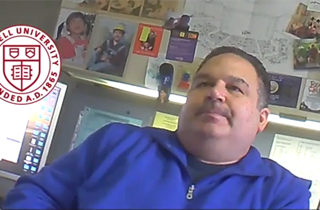 Yesterday James O'Keefe's Project Veritas released a video in which the dean of Cornell appeared to tell a student he could bring a "freedom fighter" from ISIS to speak on campus. The video was initially reported by the New York Post.
On Thursday Cornell President David Skorton responded, calling the video a "smear."
In the video, a Project Veritas member poses as a prospective student from Morocco and inquires about extracurricular activities, eventually asking about bringing "freedom fighters" and groups that "support Hamas" onto campus to educate the student body. The assistant dean of students Joseph Scaffido appears to encourage these ideas.
O'Keefe has a history of editing his videos to make people appear to agree to insidious suggestions that are belied by the original recordings, and has been successfully sued for misrepresentation.
Here's the statement in full, which was also sent to Cornell parents:
As the president of Cornell University, I want to be clear that the notion that Cornell would allow ISIS training sessions on our campus is ludicrous and absolutely offensive.

Project Veritas, the organization behind this shoddy piece of "journalism" has been repeatedly vilified for dishonest, deceitful activity. It is shameful that any individual would pose as a student facing racial discrimination at another university, ask leading questions on hidden camera about Cornell's tolerance for differing viewpoints and backgrounds, and then conveniently splice together the resulting footage to smear our assistant dean and our University. After speaking with Assistant Dean Scaffido, I am convinced that he was not aware of what he was being asked.

Let me be clear: Cornell has an unwavering commitment to the free and responsible exchange of ideas. However, we remain vigilant in maintaining an appropriate balance of freedom of expression within accepted boundaries. Of course, incitement to violence is not protected and would never be tolerated on our campus.
O'Keefe himself tweeted about the statement this morning:
Just popped into my inbox…Meanwhile we're busy finishing the next report… pic.twitter.com/yV1qZ7snsh

— James O'Keefe (@JamesOKeefeIII) March 26, 2015
[Image via screengrab]
——
>> Follow Evan McMurry (@evanmcmurry) on Twitter
Have a tip we should know? tips@mediaite.com