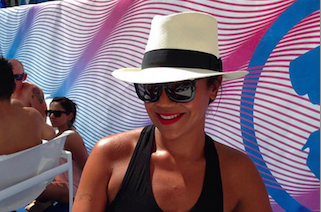 First, Bill Cosby spoke out against the media's portrayal of the rape allegations against him to a reporter from the New York Post. Then, his wife Camille Cosby released her own statement defending her husband by implying that he is the real victim. Now, the comedian's youngest daughter, Evin Cosby (you can think of her as a grown-up Rudy Huxtable) is expressing her views on the matter via Facebook.
It appears that Evin first addressed the allegations against her father in a post on December 2 that thanked singer Jill Scott and actor Faizon Love, two of the only semi-prominent figures who have stood up for Cosby publicly. Over the next several days, Evin continued to post messages attacking the media as more women continued to come forward and tell stories about Bill Cosby drugging and raping them decades earlier. At one point, she posted a link to a video from conservative website The Daily Caller that highlighted "factual contradictions" in the accusers' accounts.
Evin's posts escalated in frequency over the last 24 hours as she shared links to her father's NY Post interview and her mother's statement. Then, she started sharing her own thoughts on the allegations.
As model Beverly Johnson appeared on The View to tell her story, Evin posted the reactions below on Facebook, along with screenshots of Twitter users who also doubted the woman's story:
Questions- if someone isn't feeling well…. What you do? Do you A. Call a doctor B. Go to the hospital or C. Can't believe I called someone BLEEP??? It's either A or B!
Drugged- you can remember the whole damn day but you were drugged? Just sayin. Memory- you can remember you looked at (allegedly) eachother, people were starring allegedly remembering your home address allegedly the name you called him allegedly But you were allegedly drugged.
An hour later, she posted this message, calling for women who she believes falsely accused her father to be sent to prison themselves:
Rape is a serious allegation and it is suppose to be taken VERY seriously but so is Falsely accusing someone. When someone rapes a person they go to prison. THAT should also happen to the person that has wrongfully accused an innocent victim.They are not ONLY destroying innocent people's life they are ALSO making it hard for the MEN and Women to find justice when they have been raped.
Then, she posted this reaction to the news that her alma mater, Spelman College, had suspended its "William and Camille Olivia Hanks Cosby Endowed Professorship":
Spelman College should be ashamed of themselves. Morehouse College is a all BLACK school for men. Does anyone remember 4 Black men that were SENT to PRISON because a fellow Spelman student said she was raped. Well…… This Spelman woman was caught and turned out she lied about being raped after these men had their faces posted on the cover of ever news paper and held in jail. Someone please look up this article it was called Rape of the Spelman coed and it was in emerge magazine. Shame on YOU Spelman. You need to go to Sister's Chapel and talk about this article revisit how many other innocent MEN that have been WRONGFULLY accused!!
And then finally, there was this: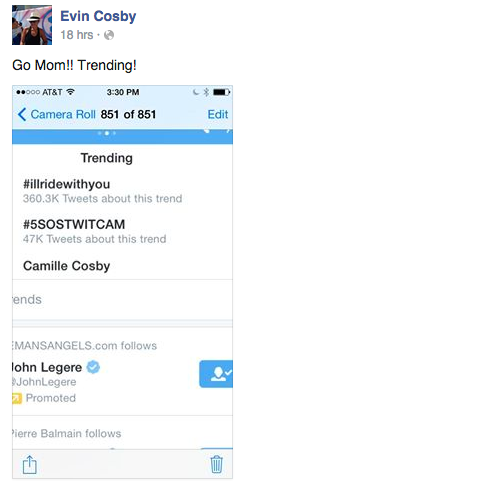 In a separate statement to Access Hollywood, Evin Cosby addressed the point made by at least one of her father's accusers regarding the discrepancy between the man who played Cliff Huxtable on The Cosby Show and the man they say took advantage of them: "He is the FATHER you thought you knew. The Cosby Show was my today's tv reality show. Thank you. That's all I would like to say :)."
[Photo via Facebook]
— —
>> Follow Matt Wilstein (@TheMattWilstein) on Twitter
Have a tip we should know? tips@mediaite.com