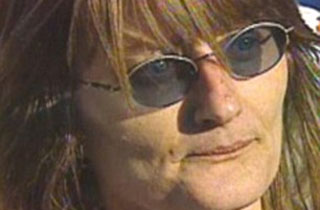 The Smoking Gun released a lengthy report revealing that "Witness 40," whose testimony helped convince a grand jury not to indict Officer Darren Wilson for the death of Michael Brown, completely fabricated her story and has a criminal history marked by mental illness, lying to authorities, and blatant racism.
According to the report, Witness 40 is a 45-year-old woman named Sandra McElroy, and her account that Brown charged at Wilson helped exonerate him (and, as The Smoking Gun points out, became part of the narrative surrounding the events of Ferguson). But a glance at her history throws her credibility into doubt: Though diagnosed with bipolar disorder at 16, McElroy told the grand jury she hasn't taken any medication for her condition in 25 years, and admitted that a car accident in 2001 left her "struggl[ing] with a faulty memory" ever since.
McElroy first reached out to prosecutors nearly four weeks after Brown's death, and her account closely matched with the account Wilson gave of the shooting — not surprising, considering that in the weeks leading up to her contacting authorities, she posted statements supporting Wilson on her Facebook wall:
In the weeks after Brown's shooting–but before she contacted police–McElroy used her Facebook account to comment on the case. On August 15, she "liked' a Facebook comment reporting that [witness Dorian] Johnson had admitted that he and Brown stole cigars before the confrontation with Wilson. On August 17, a Facebook commenter wrote that Johnson and others should be arrested for inciting riots and giving false statements to police in connection with their claims that Brown had his hands up when shot by Wilson. "The report and autopsy are in so YES they were false," McElroy wrote of the "hands-up" claims. This appears to be an odd comment from someone who claims to have been present during the shooting. In response to the posting of a news report about a rally in support of Wilson, McElroy wrote on August 17, "Prayers, support God Bless Officer Wilson."

…Commenting on a September 12 Riverfront Times story reporting that Ferguson city officials had yet to meet with Brown's family, McElroy wrote, "But haven't you heard the news, There great great great grandpa may or may not have been owned by one of our great great great grandpas 200 yrs ago. (Sarcasm)."
The report McElroy gave police matched Wilson's testimony, which was leaked to the St. Louis Post-Dispatch days before, but federal investigators were suspicious of McElroy's account: why, for instance, was she in Ferguson, 30 miles north of her home? McElroy claimed that she had planned to drop in on a high school classmate who lived in the neighborhood and got lost, but later changed her story on November 3rd, after she randomly revealed that she kept a daily journal:
McElroy, again under oath, explained to grand jurors that she was something of an amateur urban anthropologist. Every couple of weeks, McElroy testified, she likes to "go into all the African-American neighborhoods." During these weekend sojourns–apparently conducted when her ex has the kids–McElroy said she will "go in and have coffee and I will strike up a conversation with an African-American and I will try to talk to them because I'm trying to understand more."

…McElroy's last two journal entries for August 9 read like an after-the-fact summary of the account she gave to federal investigators on October 22 and the Ferguson grand jury the following afternoon. It is so obvious that the notebook entries were not contemporaneous creations that investigators should have checked to see if the ink had dried.

The opening entry in McElroy's journal on the day Brown died declared, "Well Im gonna take my random drive to Florisant. Need to understand the Black race better so I stop calling Blacks Niggers and Start calling them People." A commendable goal, indeed.
State prosecutors found her testimony credible, however, and placed her in front of the Ferguson grand jury, where she doubled down on her account — even after prosecutors asked her why she'd set up a Facebook page raising money for Darren Wilson. While she claimed then that she was raising money for law enforcement officers in general, on December 5th, she posted this update: "Since 'Officer Wilson's attorney has made it clear there are to be NO online donation excepted,' McElroy wrote, 'I purchased a money order and mailed it' to the 'Darren Wilson Trust Fund.'"
Crucially, McElroy has lied twice to authorities before, inserting herself into high-profile missing children cases:
McElroy's devotion to the truth–lacking during her appearances before the Ferguson grand jury–was also absent in early-2007 when she fabricated a bizarre story in the wake of the rescue of Shawn Hornbeck, a St. Louis boy who had been held captive for more than four years by Michael Devlin, a resident of Kirkwood, a city just outside St. Louis.

McElroy, who also lived in Kirkwood, told KMOV-TV that she had known Devlin (seen at left) for 20 years. She also claimed to have gone to the police months after the child's October 2002 disappearance to report that she had seen Devlin with Hornbeck. The police, McElroy said, checked out her tip and determined that the boy with Devlin was not Hornbeck.

In the face of McElroy's allegations, the Kirkwood Police Department fired back at her. Cops reported that they investigated her claim and determined that "we have no record of any contact with Mrs. McElroy in regards to Shawn Hornbeck." The police statement concluded, "We have found that this story is a complete fabrication."

Undeterred by that withering blast, McElroy peddled another story to police in nearby Lincoln County, where Charles Arlin Henderson, 11, went missing in 1991. According to news reports, McElroy claimed that Devlin had given her photos he took of young boys, one of whom she knew as "Chuck" or "Chuckie." Those images were shown to the missing boy's mother, who said that while one of the boys in the photos resembled her son, "I'm keeping my emotions in check. I'm not going to be hurt anymore."

A law enforcement task force investigated Devlin's possible involvement in other missing children cases, but concluded that his only victims were Hornbeck and a 13-year-old boy who was abducted four days before Devlin's arrest. Henderson, who has never been found, would now be 34-years-old.
At this point, it shouldn't surprise you that McElroy is also a bit racist:
An examination of McElroy's YouTube page, which she apparently shares with one of her daughters, reveals other evidence of racial animus. Next to a clip about the disappearance of a white woman who had a baby with a black man is the comment, "see what happens when you bed down with a monkey have ape babies and party with them." A clip about the sentencing of two black women for murder is captioned, "put them monkeys in a cage."

McElroy's YouTube page is also filled with a variety of anti-Barack Obama videos, including a clip purporting to show Michelle Obama admitting that the president was born in Kenya.
McElroy did not comment.
You can read the entire report over at The Smoking Gun.
[Image via screenshot/KMOV]
—
>> Follow Tina Nguyen (@Tina_Nguyen) on Twitter
Have a tip we should know? tips@mediaite.com