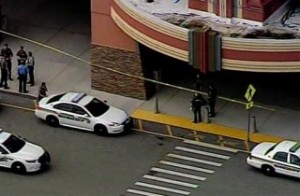 By virtue of committing a shooting in the state of Florida, the man who shot and killed a moviegoer texting in a theater may be able to use the controversial "Stand Your Ground" defense, the Tampa Bay Times speculated Tuesday.
The law allows for people to use deadly force if, in a heated situation, "a person fears death or great bodily harm…even if retreat is possible." According to the shooter, 71-year-old retired police captain Carl Reeves Jr., the texter in question (Chad Oulson, 43) had thrown objects at him and thus, he feared for his life, and may swear that it was self-defense.
Though the entire story of what happened in that Tampa movie theater remains unclear, we do know that, according to the police, the situation went something like this:
Reeves wanted [Chad Oulson] to stop texting. He walked out and complained to theater management. When Reeves returned to the 1:20 p.m. showing of Lone Survivor, "words were exchanged" and Oulson threw a bag of popcorn at Reeves, an arrest affidavit states.

Witnesses say the pair did not throw punches. Then Reeves pulled a gun and shot Oulson, who was pronounced dead at the hospital.
The Pasco County Sheriff's Office, which is investigating the shooting, made it clear that they don't think it's a viable defense — "I can tell you we wanted to make sure that defense was taken off the table," Sheriff Chris Nocco told the Times — but this is Florida, so hey, it's possible that Reeves' defense team will attempt to argue that a bag of popcorn could be perceived as deadly:
Ronald Tulin [an attorney who unsuccessfully defended a similar "Stand Your Ground" case] posted a warning on his Facebook page Tuesday morning, telling readers that the entire story of the Pasco movie theater shooting hasn't been told.

"Don't be quick to condemn," he wrote.

"The law provides that an individual is justified in the use of deadly force and does not have a duty to retreat, if he reasonably believes that such force is necessary to prevent imminent death or great bodily harm to himself or another or to prevent the imminent commission of a forcible felony.

"Attacking a senior citizen is a forcible felony in Florida."
[The Tampa Bay Times via Gawker]
— —
>> Follow Tina Nguyen (@Tina_Nguyen) on Twitter
Have a tip we should know? tips@mediaite.com