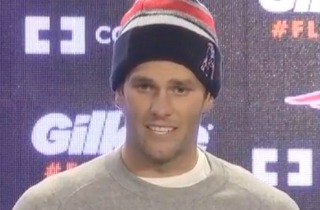 NFL commissioner Roger Goodell rejected Tom Brady's suspension appeal on Tuesday, giving a statement about how Brady was uncooperative with investigators who were examining his involvement in the Deflategate scandal.
This morning, Brady took to Facebook to express his disappointment and deny any wrongdoing, despite reports that he destroyed his cell phone after being requested by investigators to turn over a series of suspected text messages. Brady said that his phone was already broken, that he likes to destroy his phones before getting a new one, and that he tried to retrieve the messages after being requested later by Ted Wells:
"I replaced my broken Samsung phone with a new iPhone 6 AFTER my attorneys made it clear to the NFL that my actual phone device would not be subjected to investigation under ANY circumstances."

"To try and reconcile the record and fully cooperate with the investigation after I was disciplined in May, we turned over detailed pages of cell phone records and all of the emails that Mr. Wells requested."
In the wake of this development, football fans and news outlets have pointed out the suspicious element of Brady's actions, while debating whether the NFL should go to the phone company to retrieve any remaining record of the messages. Sportsgrid reported that even when Brady destroyed his SIM card, Goodell could use the NFL to track down the recipients of Brady's messages by requesting a subpoena for Samsung.
"All of us fall into the trap of thinking that our electronic conversations are private. They aren't," said tech writer and MSNBC correspondent Bob Sullivan. "The messages would be on the recipient's phone, and available from the carriers with a simple court order."
There are a couple of roadblocks to the NFL getting a mandate to investigate, however. First, even though the NFL carries total power of employment and the capacity to discipline players, it cannot legally force them to cooperate with investigations.
In other words, the NFL commissioner has pointed out the skepticism and Brady's duty to cooperate, but does not have the immediate legal authority to issue a subpoena into his affairs. If they want to get one, a subpoena will have to be issued by the court, where a case will have to be made regarding whether any laws were broken.
The second issue will be that if Brady transferred his information to an iPhone already, the NFL will have to contend with an encryption policy that has frustrated even the Department of Justice. Approximately two years ago, Apple introduced "secure end-to-end encryption" which includes a theoretical policy where no one, not even Apple, can ever access a users' texts.
This move is believed to be a response to government surveillance, and analysts have tried extracting messages for cases in the past, only to find that iMessages come with an auto-generated encryption key.
What this could boil down to is that discovering the truth behind Brady's text messages might be tougher than some might think.
[image via screengrab]
Have a tip we should know? tips@mediaite.com