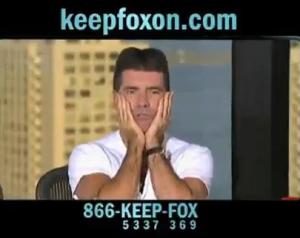 Cable providers and networks have a long tradition of arguing over renewal terms and other charges. It's why you couldn't watch the NFL Network Thursday night games on Time Warner Cable, and why Yankee fans can't see their team play on YES on Cablevision.
But could FOX broadcast network, the fourth of the big four networks, actually be eliminated from Time Warner Cable this week? They think so.
USA Today has some background:
The current contract expires Thursday. It also covers some of parent company News Corp.'s regional sports networks, FX, Speed and Fox Reality Channel. The companies are locked in a bitter and potentially precedent-setting dispute over renewal terms from Fox that Time Warner Cable warns also could result in higher monthly rates for consumers.
And now FOX has started a campaign to both make viewers aware of the potential situation and convince their fans to take action. A website called KeepFOXOn.com has been launched, where the days count down and details about the negotiations are presented. And of course, there's the link to "make your voice heard."
But it's not just on the web – FOX is running 30 second ads about the prospects as well. "No FOX? No way!" says the current ad, which you can watch below. "TV with no FOX? Thanks a bundle Time Warner Cable."
USA Today quotes a research analyst who says there's "a high likelihood that programming will get dropped (or) pulled," which is pretty shocking. But even if FOX is dropped for a few hours on Thursday at Midnight, it would truly be unprecedented if a last-minute deal isn't worked out soon after. Time Warner Cable subscribers shouldn't be too concerned they'll miss American Idol this year.
Here's the FOX ad:


—–
» Follow Steve Krakauer on Twitter
Have a tip we should know? tips@mediaite.com