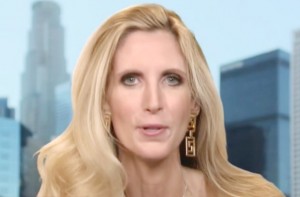 Conservative columnist Ann Coulter couldn't care less about Donald Trump's taxes, and she doubts anyone else besides the media cares either.
During an interview with The Guardian, the Trump superfan was asked about the mogul's remarks at the Hofstra debate, and whether he should release his tax returns if he's serious about challenging Hillary Clinton over her emails. As far as Coulter was concerned however, the matter over Trump taxes, even in light of the recent news, is a complete non-issue perpetuated by journalists.
"No one cares, except the media. There was enough on that during the debate; can we please move on to the issues? No. One. Cares. Good grief, this is all the media will talk about. They keep saying they want to talk policy, but every time Trump won during the debate was when they talked policy. We only have three debates and we've already spent the entire last year on Trump's taxes and half the effing debate. Can we talk about policy?"
Coulter went on to say that "everyone hates the media" because they focus too much on matters like Trump's taxes instead of his tough policy approach towards immigration and Muslims. She also said that even if it were true that Trump hasn't paid taxes for nearly two decades, "it's not a constitutional requirement to be in government," and again, "no one cares" about it.
The report on Trump's taxes from The New York Times shows that several failed business ventures resulted in a $916 million loss for him back in 1995, which Trump might have used in order to exploit loopholes and not pay federal income taxes.
[Image via screengrab]
— —
>> Follow Ken Meyer (@KenMeyer91) on Twitter
Have a tip we should know? tips@mediaite.com