Dad of Deceased Muslim Soldier Delivered His Powerful DNC Address Entirely Without Notes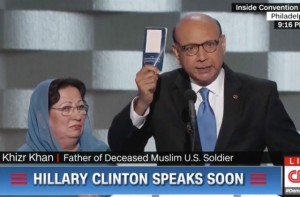 Khizr Khan's emotional address at the DNC Thursday night was all the more remarkable for the fact that it was delivered entirely without written notes.
It was "in my head and in my mind" and "spoken from the heart," he told Politico's Annabelle Timsit.
In his speech, Khan spoke of his son — a Muslim-American soldier who died in Iraq — and blasted Trump for running a campaign based on hostility to Muslims. He said:
Donald Trump consistently smears the character of Muslims. He disrespects other minorities, women, judges, even his own party leadership. He vows to build walls and ban us from this country. Donald Trump, you're asking Americans to trust you with their future. Let me ask you: have you even read the United States Constitution?!
At which point he took a copy of the Constitution out of his pocket and offered to loan it to Trump.
Timsit reports:
The Clinton campaign offered to put him in contact with a speechwriter. He declined. He knew what he wanted to say. He practiced at home with his family, leaning on 40 years of experience as an attorney that taught him "how to control my thoughts, my emotions and my message."

On the day of the speech, he grabbed his worn copy of the Constitution and slipped it in his jacket pocket. He carries it regularly, especially when he travels. "It's my favorite document. I wanted to use it because I wanted to highlight the protections that immigrants have in this country."
[h/t Politico]
—
Sam Reisman (@thericeman) is a staff editor at Mediaite.
Have a tip we should know? tips@mediaite.com