Daily Caller Writer Mounts Despicable Attack On Christie For Appearing With Obama After Sandy
Daily Caller Writer Mounts Despicable Attack On Christie For Appearing With Obama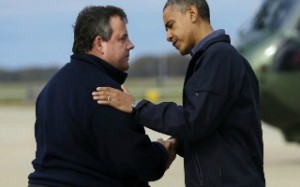 On Wednesday, The Daily Caller's Matt Lewis posted a column in which he speculates on the political calculations that New Jersey's Gov. Chris Christie may have made when he agreed to join President Barack Obama on a tour his Hurricane-ravaged state. Lewis proffered a number of self-serving conspiracy theories regarding Christie's motivation for allowing the President of the United States to view the unprecedented devastation – only in passing did he suggest that perhaps the governor was thinking about his citizens and not the political careers of his fellow Republicans.

RELATED: Chris Christie Praises Obama's Hurricane Response: 'I Cannot Thank The President Enough'
"Some people believe Christie is just being Christie. That he's always over-the-top, and so this is consistent with his behavior," Lewis writes in "What's Chris Christie Up To?"
The Daily Caller columnist notes that a "less plausible" theory is that Christie – a staunch and early backer of Mitt Romney's presidential bid – is attempting to torpedo the GOP nominee's presidential aspirations in order to pave the way for his own bid in 2016. Lewis does, however, acknowledge that this is an implausible theory; like so much in the last week, we should be thankful for this small blessing.
Lewis' primary gripe with Christie is that he was simply too grateful to President Obama for being responsive and quick with his release of federal disaster relief funds.
[I]sn't it possible to be serious and respectful and thankful without becoming a prop for Obama's re-election? (The issue here is about the degree to which he is going out of his way to help Obama politically — and the context of the timing.)
Like Democrats who argue that this storm sinks the Republican notion that small government is effective government, Lewis falls into the trap of blind partisanship in his post-Sandy analysis. Democrats confuse the issue when they convince themselves that the need for any government is itself an argument against small government. Similarly, Lewis has confused the nature of responsible governance with politics.
If you are not a resident of the Garden State, I would imagine that it is difficult to fully comprehend the scope of this disaster. It probably sounds hyperbolic to those who did not spend childhood summers on the New Jersey coast when residents of this state describe this crisis in emotional terms. The scale of the devastation is immense, and it is truly emotionally taxing. Gov. Christie grew up in New Jersey. He shares a genuine and, to the jaded political class, naïve love of his state and its residents. He has done the right thing by putting the 2012 election behind him in order to secure as much assistance for his fellow New Jersey residents as possible from the federal government.
While millions of residents of the Northeast and the Midwest toil in the darkness, the political media has been talking to each other about the electoral impact of Hurricane Sandy. For most of those impacted by this storm, this has been a human story — not a political one. For Gov. Christie, this is a real and pressing disaster and he correctly decided that the politics of this storm could wait. It is sad that The Daily Caller's Matt Lewis could not do the same.
Read the whole piece here via The Daily Caller
> >Follow Noah Rothman (@Noah_C_Rothman) on Twitter
Have a tip we should know? tips@mediaite.com