Data Problems for 2 Million Obamacare Enrollees Might Mean No Coverage for Many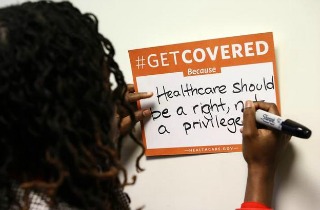 Just as the president's supporters had begun to entertain the notion that the Affordable Care Act is growing in popularity based on its disappearance from the headlines, and Republican stump speeches, the law goes and gets itself back in the news.
The latest ACA debacle centers on the revelation that user data for millions who enrolled in the health insurance exchanges is corrupted. According to the Department of Health and Human Services, up to 2 million enrollment applications have data errors which could mean the difference between an enrollee having health insurance and remaining uninsured.
The admission that up to 25 percent of all ACA enrollees may have data discrepancies was revealed in a HHS presentation provided to the Associated Press. Most of the discrepancies which could jeopardize access to health insurance for some of the 2 million involve user income, citizenship, and immigration status.
Many Democrats have assured themselves that Republicans are slowly and quietly giving up on repealing the ACA. And the GOP's "repeal and replace" message has, in fact, been shelved. But a report in the Washington Examiner reveals why: the GOP can only pursue "repeal" of the law when the president leaves office in 2017. For many, that position concedes that nothing can or will be done to reform the nation's health care system for years.
Judging by the latest ACA disaster story, it is no wonder why voters do not want to wait that long for a true health care fix.
[Image via Kevin Lamarque / Reuters]
— —
>> Follow Noah Rothman (@NoahCRothman) on Twitter
Have a tip we should know? tips@mediaite.com